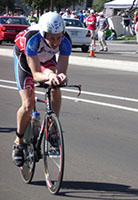 I had the pleasure recently to talk triathlon with long time Triathlon Club of San Diego member, JT Lyons. Many of you have gotten tremendous assistance on the bike from JT as he is the owner of Moment Cycle Sport. Please join me as we get to know this great guy who has made triathlon his career.
Craig: How did you get started racing triathlons? (tell us the events that led up to your 1st race, the name of the race, the year, and if anything interesting or "goofy" happened)

JT: Hey Craig, thanks for the opportunity to talk with you. I've been reading your interviews for so long, it has always been one of my favorite parts of the TCSD newsletter. I never thought I would be one of the "interviewed".

My first race… hmmm. I grew up swimming and then played Water Polo at LMU in Los Angeles where I studied Mechanical Engineering. My senior year ('97), water polo got put aside while I started a program at our school to build a race car for a national engineering competition (FSAE) – the auto industry's way of motivating engineering students to teach themselves about auto design. I basically didn't sleep or exercise for the next 18 months while we turbocharged/fuel injected a 600cc motorcycle engine, designed and built a chassis and suspension system, and then raced the car in Detroit. This led to a dream job at Shelby American (you know, the ones that build that sweet Cobra?) Going from 5+ hours a day in the pool to no form of exercise while maintaining a 4,500 calorie diet made me balloon from 150 to nearly 200 lbs! My roommate/coworker Dan and I decided together to cut out our bad eating habits (e.g. a gallon of Dr. Pepper per day) and started lifting and swimming at the gym. Which is when we saw the ad … "Pacific Coast Triathlon" … 2 weeks out – "no problem", we laughed! Dan hurt his back the next week so he dropped out but I resolved to do it on my own.

I remember going to the expo to get my packet and seeing our own Gurujan Dourson of T.N.T. giving a course talk and a transition clinic--I listened to every word! (pay attention beginners!) I swam with a shorty surf wetsuit (can you say rash?!) and a speedo underneath. I changed to running shorts and sneakers in transition, rode my old mountain bike with slick tires, and then ran in my sneakers. That last hill in the PCT is BRUTAL! I thought I was going to die. I finished in the bottom 1/3 of the race but I had a blast and was hooked. I still remember the buzz I had from that first one. I immediately went out and bought a road bike… so much faster!!

Craig: The Pacific Coast Triathlon is up in Newport, right? How did you end up in San Diego and a member of TCSD?

JT: I was actually born here (my Dad was a Naval officer stationed here at the time, he retired here also). Professionally, Shelby American was being run out of business by "savvy investors", so I had to find a new JOB. Having worked with aluminum, steel, carbon, and titanium at Shelby, I decided to build on my composites knowledge and joined a local defense contractor SPARTA Inc. Their specialty was carbon fiber components for the military. I worked on several weapons systems projects before returning to my roots and running a development/production program for the Ford GT. Without going into too much detail, let's just say this gig was interesting and everything was always "super-light/stiff/aero" That's what we did… high performance "stuff".
I can't recall exactly how, but I soon discovered TCSD. I went to a few meetings with notable speakers (Tim Deboom, Peter Reid) and was impressed, intrigued and could tell everyone was having fun. I joined immediately, and started showing up at events. I did a couple of Olympic distance races and convinced myself I could do a half, did it, then I got the idea to try an Ironman (Brazil). I dragged my friend Dan along for this one too… how could he refuse Brazil!?!

So, now that I was training for an Ironman I had to get serious. I think I went to every TCSD workout for a 9 month period, every run, every club race (back when 25 people was a good showing), and even led a regular TCSD ride for a while there. The encouragement, and friends and food have always been a favorite. I trained a lot, overcame some obstacles, slacked off at work (almost too much), and managed to finish IM Brazil in a time of 11:45.

Craig: Have you done other Ironman races?

JT: I just completed IMAZ in November, which was a great experience for me. I didn't get to train as much as I would have liked, but was still happy with my time. I think I was most happy that my legs didn't cramp on the bike (thank you Thermolytes!!) The swim was mellow, I tend to veer to the left when I swim, and (of course) the swim course had a slight bend to the right. So, I bounced off of every buoy in the water. But I got out with a solid 1 hour swim. I did the first loop of 3 for the bike on a 4:30 pace, and decided I'd better slow down. I backed it off, and went easy for the second loop. The third, I picked up the effort a bit, I managed to pull off 5:13 bike split. It was fun to see people I knew out on the "spectator friendly" course – I got to see my girlfriend Lynne twice on the bike and 5 times on the run!! TCSD had an amazing representation there. I went into transition and saw Philippe (my crazy fast Swiss friend) finishing his first lap of the run on his way to a course record…impressive! My run?.. well let's just say it hurt a bit! I finished with a time of 10:53. I wanted to break 11:00 so I beat my goal and was happy to pull it off. Thanks to all of the TCSD people out there cheering. I couldn't have done it without you!

Craig: Of all the many races you have done, which was your best? Or which race performance made you the most proud?

JT: I think my favorite is when I'm racing a friend or rival and I manage to pull out the win. I love to joke around with my friends about who's faster. Cory and I have quite the smack sessions at the shop on occasion. I'm most proud when I'm able to hold off or pass someone working hard on the run (the run is my biggest weakness). One year, I was 6th in my age group at LA Olympic, placed at the Turtleman in MN, and got second in a couple of club races. I always give it what I can on that day and have fun.

Craig: When/how did Moment Cycle Sport come about? How has your background helped create a unique experience for your customers?

JT: Shortly after IM Brazil , I started getting tired of the status quo. I liked the work I was doing (design & manufacturing) but I wanted more control and freedom over the selection of projects. So, now I just had to figure out what I enjoyed that could pay my bills (my athletic ambitions are not on that list ;-)). I thought of starting a bike company but there was too much competition, and talk about HUGE marketing budgets! So, I decided to try my hand at designing bike components (bars, forks, cranks etc.). I saved up a bunch of money, quit my job and started designing. I put together some nice stuff, but I was burning a hole into my savings fast. Product development, testing, patent applications, etc are NOT cheap. I also wanted to make sure that my designs/products would be well received by the retailers or people who recommend them so I went to bike fit school, (F.I.S.T. Serrotta), then to professional bike mechanic school at the Barnett Bicycle Institute. I learned a lot and generated many more ideas for products but there was still the issue of running out of money.

One day I was looking for office space for my business and I walked into the space that is now Moment Cycle Sport. I looked around, and it was certainly not a great office space, it was clearly retail. I left, went home, and happened to have a bike map on the table. It got me thinking. I started marking locations of the bike shops in San Diego and saw a gap (especially when you considered triathlon stores). This place was located on one of the more popular bike routes in San Diego (to the Cabrillo National monument) so I thought "maybe I can open a small bike shop." I quickly learned you need to make serious commitments to bicycle vendors and so the "small" idea became a lot bigger. Using my personal experience as a triathlete, I modeled my business on what I wanted most out of a bike/multi-sport shop … customer service! Three years later, and a ton of work, I can say, that it hasn't been easy but it's been fun and rewarding. We don't have the resources to carry every bike in every size (no shop does actually) but we always find the best solution to meet our customers needs (even if that means a special order).

Our strength lies in our knowledge and leveraging CAD (computer-aided-design tool). Technical expertise I've gained from my prior work experience has been invaluable for Moment Cycle Sport. I knew that I could "fit" someone (optimize their position for riding a bicycle) on a "fit bike" (flexible geometry bicycle simulator), reproduce their position on the CAD system, and use that with bicycle geometry tables to determine exactly what bike is most suitable for each person. For me the "fit bike" is essential, because if you don't use one, and instead you "fit" someone "to" a bicycle, assumptions have been made about that person's physiology or riding preferences, and each bicycle is only so adjustable. If your assumptions are less than perfect, so is the fit. In short, Moment Cycle Sport really fits bikes-to-cyclists, rather than cyclists-to-bikes. It often takes us longer to fit and sell a bike than most, but I think Moment's customers are more comfortable, powerful, confident and likely to continue enjoying the cycling/triathlon lifestyle as a result of this methodology.

With my professional design background, it was a no-brainer for Moment Cycle Sport to specialize in custom bikes. We design our custom frames in-house using sophisticated CAD models and work as an advocate for our customer with the manufacturer. This ensures our customers get only the best designed and built custom bikes from the manufacturers. The geometry will give the customer the best bike handling, and flexibility of fit over the life of the bike.

My manufacturing experience has really helped in our service department. We have developed quality control systems that ensure EVERY bike that leaves the store is adjusted to the same high standards. It's rare, but occasionally I'll even design custom adaptors or other such parts to help customers' bikes work that otherwise wouldn't have been so good. Custom colors for parts of your bike, we can do that also. Vintage Campagnolo … got it. We enjoy the challenging projects. It keeps things interesting.

When I first opened the store, to keep costs down, I actually lived in the storage room in the back. I built a "loft" for my bed up above the storage shelves and slept there. It wasn't fun, but it allowed me to get the store up and running without paying rent at both the store and a separate apartment. (No, I don't live there anymore!). My friends Cory Osth (now one of our key employee/mechanics/owners), Clay G., Lynne and Matt Sparks (of MHS Works fame) helped me remodel the space for the store. I couldn't really pay them, but I tried to keep their bellies full with food and beer. I still remember Clayton holding me on a stool holding Cory on a ladder putting in screws over his head 12' in the air, hoping no one was going to fall. It was a scene right out of the Three Stooges. I never could have done it without the help and encouragement from my friends and long time girlfriend Lynne Branchflower. Somehow I thought it would be less expensive to do it myself … WRONG!! What probably could have been a 2 month remodel became 8 and I paid the rent for all 8 months I wasn't open … oops!

Craig: With the current economic challenges everyone is facing, can you prioritize your recommendations for someone on a budget wanting to improve their triathlon performance?

JT: The economy is tough, and triathlon isn't an inexpensive sport. It doesn't have to break the bank though. A good bike, running shoes (and a speedo.. ;-)) can take you a long way. Depending on your budget or current equipment, the following is the order I'd recommend ...

#1) Is absolutely positively a good bike fit. It can increase your power output, and comfort on the bike, make it easier to run after the bike, and is absolutely the most effective way to be more aerodynamic on a bike (aerodynamics DO matter a lot). I don't believe that "aero" and "comfort" are mutually exclusive. There are certainly limits, but I'd say 90% of our customers leave the store in a more comfortable AND more aerodynamic position on the bike. If you calculate the amount of time you will spend on your bike training and racing, spending $150-400 on a bike fit is a pretty small number. In my opinion a good bike fit requires the use of a "fit bike" and then translating the new position to your bike.

#2) A well fitting aero helmet. Get one suitable for your body type and position on the bike. It can make a huge difference in your aerodynamic drag. If you are a person with a curved back vs a very flat back, different aero helmets are going to give you better or worse results. For $150 -$250 you'll get the same drag reduction of a $2,000 set of race wheels.

#3) Transition 1-transition 2… work on it. It's part of the race, free speed, and almost no-one practices this. You can make up minutes on your competitors! I really like elastic laces to speed up the run shoe swap, tri-bike shoes, and just being organized at your transition. Create a transition plan and follow it. ALWAYS pre-walk the transitions of your races. Your brain doesn't work as well when all the blood is in your legs.

#4) Train smarter not harder… make your fast workouts faster, and your slow workouts slower. That is, you need long, slow workouts to build base, and you need fast high intensity workouts to build strength. If you need help, there are a bunch of great coaches available through TCSD.

#5) New tires… A nice set of tires is a great addition before a race. Don't get cheap on your tires for a race. New ones will be less susceptible to flats, roll smoother, corner better, and be lighter for going up hills, rolling weight is more important than static weight. Don't buy the crazy super-lights or super-grippy tires, just a good solid all around race tire will do the trick, and actually give you more good training miles than you think.

#6) An indoor trainer, and a good training video or two or three. I know, it's San Diego, no-one wants to train inside, but solid high intensity workouts non-stop for an hour or more are hard to come by outside. It's easy on a trainer. I really like the videos from Carmichael Training Systems, they are heart rate/cadence and or power based so as your fitness improves the intensity goes up with it. Always a great workout, when I'm training for a goal race, I find at least 1 (good intensity) trainer workout per week really makes a difference.

#7) Race wheels. A good set of race wheels does more than improve your aerodynamics. They also can improve the ride quality of your bike, and lower its weight. All can lead to a better run. Less fatigue on the bike = faster run. Make sure to pick a wheel set that is appropriate for your race, body type, bike handling skills, and riding style. It matters, and not all race wheels are created equally.

#8) A new bike. You may not need the most expensive bike out there, but one that fits YOU well can make a huge difference. Sometimes it's the same size, but a different geometry. If you're limited to riding in a position that's less than ideal for you because your bike can't accommodate it….maybe it's time for a new frame. Geometry of bikes (especially tri bikes) from different manufacturers are NOT even close. Two bikes can have the same top tube length and fit TOTALLY different. It can make a HUGE difference.

Craig: What would you like people to know about Moment that they are possibly unaware of?

JT: Moment is employee owned. All of the full time employees at Moment are owners. Our team is 3.5 strong now and has over 36 years (cumulative) experience in cycling and triathlon and includes myself, Cory Osth, service manager, Lynne Branchflower M.B.A operations manager, Daniel Wallis, mechanic. We are professionals. This is our career, we strive to be the best, and give you the best customer service possible. We're also looking forward to our growth. Moment has added some new products and even a bike team this year…we're excited to see where we can go. We're here to stay and optimistic about our future. We have some exciting stuff planned for this year, so stay tuned!

Craig: What are your favorite benefits of TCSD membership?

JT: I think just the many friends I've made and all of the great events are a special benefit. I love to race, and the club races are so well organized and fun, and free!!

Craig: In all your years as a triathlete, what is one of the funniest memories you have?

JT: Nothing is really standing out to me that much. I've certainly done the usual… run out of transition with my helmet on, put my running shoes on for the bike. I even got on my bike still wearing my wetsuit. That transition was really fast!!

Craig: )Who is your hero and why would your select that person?

JT: I don't know that I really have a "hero". I admire lots of people, but I don't know that I could narrow it down to one. I think that when people overcome true adversity that is really heroic. We are not all given that "opportunity" so perhaps just being good at what we do is admirable. I really appreciate people who can get up and smile every day regardless of what gets thrown at them.

Craig: What are your future goals with the sport of triathlon?

JT: I'd love to qualify for Kona some day (who wouldn't!). I think my swim and bike are close, now I just need to train correctly for 26.2 miles of running… I've never done a marathon except in an Ironman, and it hasn't been pretty yet. One of these days, I'll set my mind to it. I also think it would be really cool to win a race. The closest I've been was 2nd, but it would be cool to be on the podium as first, if only just once. As a matter of fact, it would be cool be on the podium. Every race I've placed in, for some reason I missed the awards. I'm not going to kill myself for either, balance is key, but it's always fun to have goals. I also really enjoy helping people perform to their potential. It was really fun to see Philippe Krebs and Elizabeth Daubner, a couple of our sponsored athletes this year, get even faster with some tweaks to their bikes. Some of the most rewarding though is when a middle or back-of-the-pack person makes a big improvement based on our suggestion.

Craig: JT, thanks for sharing your story. Your team at Moment has helped a lot of people in the past and I'm certain that will continue long into the future.