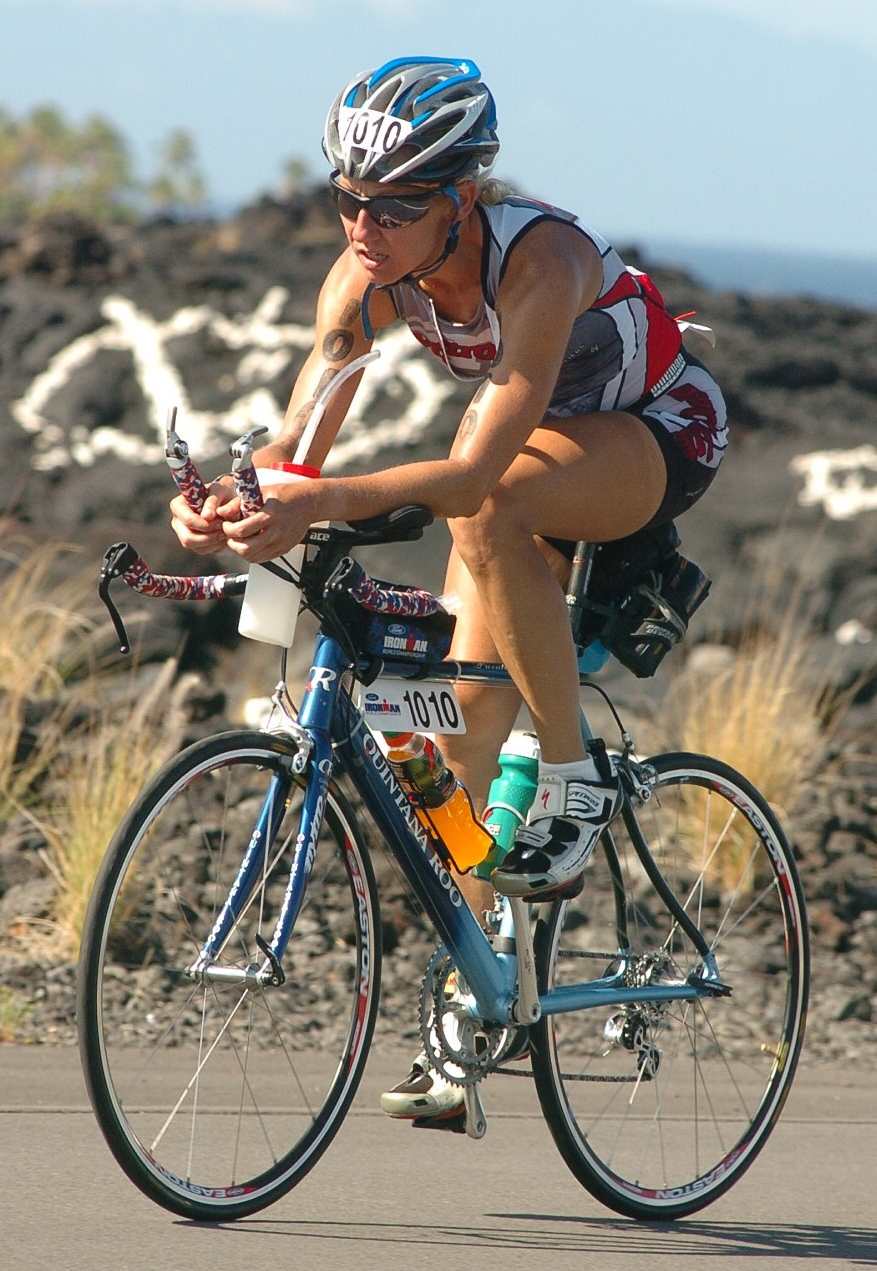 I had the pleasure recently of getting to talk triathlon with TCSD member Jill Childers. Jill bounced back from a life threatening injury to finish her 1st Hawaiian Ironman in 2007.
CZ: What was your athletic background prior to triathlon?

JC: Not very much, some softball in junior high school along with cheerleading from the 7th grade to my sophomore year in high school. Teenage girls in the Midwest (Chicago suburbs), where I was raised in the late 70's and early 80's didn't participate in sports too much. Most of the girl "jocks" were built like amazons and participated in ball sports which I wasn't good at. I was skinny, but on the hyper side so cheerleading was good for me.

CZ: How did you get introduced to triathlon?

JC: Let's back track a bit. I ran my first mile ever in 1999, just months prior to that I was overweight (a very snug size 12 and felt old for my age so I tried a diet of 10 grams of fat per day (fatty foods were my fav). The weight dropped fast. I couldn't buy new clothes fast enough but was getting light headed and I knew I had to eat more normal soon, so my husband, Chris, said go walk around the block. When it got easy, another block was added…etc. I learned about "race walking" and did that a bit, but got bored and decided to challenge myself with actually trying to "run". That was huge. I learned to jog very slow & entered my first 5k which was held in Poway on a very hilly course. I finished the race in just over 30 minutes and from that moment I became a runner and was hooked on races. From there I ran a few short races & then my first half marathon (AFC) in August 2000. I finished that one in 2:15 and was pretty stoked even though I did not eat breakfast that morning and drank only water on the course (so little I knew of nutrition), dry heaved at the finish but was happy.

A few months later I watched the NBC coverage of Ironman Hawaii and said "oh that looks like fun! I've got to do that!" The next weekend was Mission Bay Triathlon so I drove down to watch the race for research and it was so exciting. I felt the athlete's energy racing and decided I've gotta do this. Through the book Total Immersion, I learned how to swim freestyle, I bought a chromoly road bike and improved my running. By Christmas, I was ready for my first triathlon and decided the Tri Club Polar Bear race in January would work. Lovely, it was cold! I never open water swam before and as soon as my face hit the water, I panicked and hyper-ventilated; that water was so cold! I flipped over and backstroked 90% of the swim. I did a full costume change for the bike/run but was thrilled knowing I was doing my first triathlon. When I finished (probably in last place), I said "I'm a triathlete!" I felt like one of those Ironman Hawaii athletes. My first "official" paying triathlon was Spring Sprint that May, which I was better prepared for.

CZ: I recall you were preparing for your first Ironman a few years ago and had a serious bike accident. What happened and how did you overcome that?

JC: It was August 2, 2003, just 5 weeks out from what was to be my first Ironman, Wisconsin. That race never happened. I was on a 60 mile training ride with my friend, Jon, and a person I just met that morning. We started heading out to Iron Mountain from the coast. At Black Mountain Road in from of Penasquitos Canyon, just 2 miles from my house, after a long fast descent about 30 mph, it happened. I was riding closest to the curb, Jon on my left side and the other guy behind me. I slowed down at the bottom of the hill past the traffic light because of some road construction, I put my hand behind my back to warn the rear rider I was slowing, and he was not paying attention, then boom! I felt a huge impact on my back end and was hit hard. I was told that I broke his and his bikes fall (about 200 pounds combined). The next thing I remember I was sitting on the curb crying in pain holding my shoulder, the EMT and police were already there. I don't remember much more other than the pounding going on in my head. As I laid in the ER all I thought about was my Ironman, knowing it was not going to happen. That was the least of my problems. My friends Amanda and Eric were first on the scene, next Chris. He showed the doctor my cracked helmet but they said I wasn't unconscious therefore they were not going to scan my head for brain or skull damage, in the meantime they scanned the rest of me. A nurse said because I was in such good shape, my body was spared a lot of injuries. They sent me home with a bottle of Vicodin and a sling for my broken collarbone.

The bike crash happened on a Saturday morning and my head pain never improved. It just seemed to hurt more, so on Monday morning Chris took me back to the same ER and they took me in asking a few question such as "who is the President" …took me a long time to answer, but I got it right "Bush". Next "what year is it?" I guessed that one wrong. Time for a head scan. I was admitted when the result came back. The Neurologist showed the picture of my brain and indicated that my brain was bleeding on the right temporal lobe and he added "your jaw is broken too". More tears. What I learned afterwards that I could have had a seizure and died that weekend without the proper medication to stop my brain from bleeding/swelling more. I was at Sharp for two nights. The first night after hearing the bad news about my head, Chris was forced to leave at 9 pm as visitor hours were over. Aside from my roommate who kept complaining that I was crying too much (from pain) the hospital decided to do some construction across the hall from me; oh that hurt. Chris was beside himself and he remembers driving home that night crying and praying, telling the Lord how mad and helpless he was and that God has to fix my room arrangement and my injuries. As that prayer went up, a wonderful male nurse whispered in my ear "I'm going to get you out of here"…oh he was Heaven sent! He wheeled me all the way down the hallway to room with Nellie a wonderful older ballerina who was struck by a truck walking across Friars Road. When I arrived crying, she said "I'm Nellie, don't worry, I'm going to pray for you". Her injuries were far greater than mine yet she was concerned about me.

My recovery for the shoulder took about 6 weeks, my ability to read, watch TV, remember family names took a couple weeks. I couldn't even read a license plate, I'd misname objects, called the hospital "a hotel", couldn't remember what that thing was (sling) holding my arm in place. It was a very difficult period. I was under 24/7 watch when I got home and my in laws watched me during the day. I went through a very emotional period about weeks 2 – 6 after the crash and cried at almost anything and everything especially when I first saw people I knew post crash. Thinking how fortunate I was to see them again, I could have died. Weeks later I was still determined to get back into triathlon I pressed Chris about getting back on the bike. The answer was a firm "no more biking". Not being allowed to ride made me so mad and sad in that something I loved so much (triathlon) was taken away from me. I was a wreck and our marriage suffered because of my inability to see how the crash impacted Chris. So by no coincidence a new women's bible study was starting at my church, Horizon Christian Fellowship, and the ladies there were most instrumental in my return to spiritual, mental and emotional wellness. It was a long healing process but with God's love and their understanding and lots of love, prayer and hugs I got better. I moved on and ran my first marathon and then from there a whole new world opened for me (Ultra marathons). Over the 2 year "no bike" period I stayed in with multi sports by racing aquathons and relaying Ironmans as the swimmer/runner. I wasn't willing to leave the tri scene; that is where my friends were but missed being able to do swim-bike-run. Then 2 years after the date of the crash, I got some good news, Chris let me get back on the bike just to do the Ironman. I signed up for Vineman Full since I had great experiences with my relays there. I finished well there - 9th place in my age group with a 14:05 finish.

CZ: How did you learn you won the lottery for a Kona slot?

JC: I got a call from Don Norcross of the San Diego Union Tribune. He said he was calling all the San Diegan's who entered the lottery and ask them a few questions about why they entered. O.K. right there I should have known something was up, with 6,500 lottery entrants worldwide (150 chosen domestically = .02% chance of getting selected), can you imagine how many San Diegan's entered? No way Don was going to call that many. I told him I knew who he was because I loved his Friday Fitness Fanatics article. I mentioned that my 2007 was kicking off right with getting on the Aquaphor Active team and PR'ing at the 50 mile distance at Avalon with a 9:52 finish and that I decided to enter the lottery while I was on a roll. I had never entered it before. Then I told Don off the record about the bike crash because I was hit by someone he did an article on just weeks after it happened and how much it hurt to see that article. You see that person won an Ironman lottery too in 2003. He was taken back and didn't know about it. I told him also about my physical transformation from chubby to fit and he had his story. He said he'd call me back if won a slot.

I got that call a couple hours later…"Hi Jill this is Don Nor…'yeah I Don!'….well I have some good news and bad news for you what do you want first? I said "the bad" he said "I lied to you earlier" and 'the good'? "You are going to Kona!" Oh my God! I was so surprised how could something so amazing like this happen? Well the answer became clear, it was God's plan and what you would call "full circle". Don wrote an article on me for that Friday's Fitness Fanatics (April 13, 2007 edition). I woke up very early that Friday morning too excited to sleep, went for a run, then hit my Starbucks at 5 am, bought the paper and wept reading my life in print. He told the story so beautifully. Later that morning, I bought 16 newspapers! The week later Don got to elaborate on his story for www.ironman.com and that article was titled "Childers Goes To Kona!"

CZ: NBC selected you as a possible featured athlete in this year's telecast. What was that experience like?

JC: I was interviewed in Kona next to the Pier and it started off funny. They gave me a men's large Ironman blue t-shirt to put over what I was wearing which was my Nytro race outfit (Skip McDowell had Nytro sponsor me for Hawaii because of the potential NBC coverage) so I commented that I was wearing my sponsor's clothes and the gal said "yeah I understand you all have sponsors but we want you to represent Ironman". OK, I'll roll with it. I put on the huge shirt and the interview began. A minute into the interview, the cameraman said "Cut. I can't see her! The shirt has to come off." I had to laugh. Wearing that thing made me look anorexic, not exactly the image Ironman wants portray. The interview was quick; talked about my impressions of what the Ironman is all about, my bike crash, and race expectations. Next they took some film of me running and on race day I got filmed up close on the bike at mile 30 for a few miles, I blew past an aid station so not to stop the filming and rode a little harder than normal. Heck, it's not every day I can feel like a pro athlete at the World Championship!

CZ: How did Ironman Hawaii go for you?

JC: AWESOME!!! I loved the whole experience. Aside from the media attention, it was the coolest race I've ever done. The wonderful folks at Ironman treat you like royalty. There was something to do each day like swimming out to the catamaran that served coffee and the classic underpants run, which was silly fun. I got a chance to talk and get photographed with my new best friend, Natasha Badmann. I told her she was the world's coolest triathlete and I got that famous Natasha smile out of her.

My race went great. I finished and enjoyed the day. The water was perfect: calm and balmy. I seeded myself in the right spot and did not have physical contact with anyone. I got out of the water in 1:31 (slower than predicted) but my body was feeling great, I didn't swallow any air - this usually happens to me resulting in a distended stomach. So with a good stomach intact, I was ready for a good bike and run. The bike went smooth for the first 40 miles, then going uphill the winds were head on..ugh! After the turnaround the push from the wind was mighty! That was fun for about 10 miles, then back in the open with trade winds slanting cyclists to the side. The Kona winds were back this year. I was told it was hot, but I was heat trained so it did not bother me at all. Once I turned right back on the Queen K back into Kona, it was all headwinds. I suffered from some very hot feet on the bike and had to stop, take off my shoes & socks umpteen times to rub them but my nutrition was dead on so I was looking forward to my favorite leg…the run. I got to T2 with a bike time of 7:59 (about 30 minutes slower than planned). I got to the changing tent, put on my run gear and I flew out of there! My feet were at home in running shoes. My first mile was an 8.3 pace and I was giddy. The Alii Drive section (about 10 miles) was fast and fun. When I got to the Queen K it was getting dark and it gets butt dark on that road. The roads there are in perfect condition so I had no trouble running in the dark with only a glow stick around my wrist. I ran the entire course with ease and finished it in 4:54, passing 117 runners along the way. The finish in Kona is amazing… the cheering fans, hearing Mike Reilly calling my name out. I crossed the line in 14:41:03. While my story did not make the NBC show, my finish did. NBC showed a very short 2 seconds of me with my finishers lei on my neck in the last 5 minutes of the telecast. So in the end, I got on the show!

CZ: What advice would you pass along to a person entered in their first Ironman?

JC: Train and race your own way. Be patient and diligent but don't let the training overtake your life. You'll be training 15-25 hours a week, you will get tired, be crabby, have an insatiable appetite and never think that race day will arrive, but it does. Enjoy watching your level of fitness improve and be amazed by how your body transforms (it happens to all of us). Don't forget to eat and sleep more than normal. Don't push the pace too hard. Ironman is about endurance and strength and is more mental than you think. If you don't usually get massages, think about getting one twice a month. On race day, enjoy every minute. It goes by faster than you think.

CZ: One of your 2008 goals is to run your first 100-mile ultra marathon. What event(s) are you doing and what has that preparation been like?

JC: Since March 2005 when I ran my first Ultra marathon, a 50K, I've run 13 Ultras: a handful of 50K's, 50 milers and one 100K. To prepare for the 100-miler I plan on running many Ultras (50K's, 50-milers, and 100K's), most on tough, mountain trails. One is a 100K in the Oregon Cascade Mountains that has a 22,000' elevation change. Training wise I'll do what has been working so far which is, stay to the plan laid out by my running coach, Gordy Haskett, keep the weekly miles up and up (70 – 90). In 2007 I ran 3,000 miles and I would like that to go up. I'll continue my run commutes (28 miles round trip), run more in the Laguna's and swim/bike ride to cross train. The swimming is very important for recovery and builds upper body strength which comes in handy in later miles in an Ultra.

CZ: Your belief in God is what seems to make you tick and it is my favorite part of knowing you. How did you come to discover God?

JC: I became a born again Christian at 26 while living on my own in San Diego. I was a suitcase away from moving back to Chicago. I was so lonely and didn't understand why I felt that way. A friend invited me to her church, Horizon Christian Fellowship, and I really heard the Gospel for the first time and went forward with an altar call without hesitation. I studied my Bible every day, listened to study tapes, prayed, just became hungry for more knowledge and understanding of God's word and will. That is when I decided to attend a home fellowship bible study where I met Chris. We married 9 months after we met. My relationship with the Lord does make me tick as you say. He gives me purpose, direction and a future. When I get to do crazy 50 mile mountain runs and finish without getting hurt or eaten by a bear or mountain lion and make some friends along the way, it's because God allows me to do things and enjoy Him and His creation in the process.

CZ: What are your future triathlon and running goals?

JC: Long term goals, run the Western States 100 Endurance run. I qualified and entered their lottery in 2008 but was not selected, the field limit is small, 357; so I'll qualify again in 2008 and try again for 2009. Run one of the "Slams" four 100 milers over a single summer. Triathlon wise: I have a weird attraction to Korea and would love to do that Ironman. I've got a big heart for Vineman Full so going back there is like going to Grandmas at Christmas. And of course another trip to Kona in my lifetime would be wonderful.

CZ: What do you do for a living and what is your family life like? Do you have any kids or pets?

JC: To fund my running habit, I'm a Business Manager at an engineering firm in Solana Beach (we are one of many offices in a large company). My boss, Randy, is very generous, understanding and puts up with my pre-work, lunch time training, and leaving work at 4 p.m. so I can run home by 6:30. Chris is a Saint in disguise and a volunteer chaplain. He is the most loving and giving man I've ever met. He puts up with my training and lets me go away for a night or two for races. I love him lots. We have a 14-year old Australian Terrier named Mel and a 10 year old Cockatoo named Danny.

CZ: Jill, thanks for sharing your story. I think God still has big plans for you on Earth. I know you will touch many more hearts and cover many more miles!

Ironman Conversation by Craig Zelent
I recently sat down and talked triathlon with TCSD member, Chuck Pateros. I really enjoyed getting to know Chuck better and I know you will, as well.

Craig: What was your sports background when you were younger?

Chuck: I attended a combined junior-senior high school for 7th and 8th grade and received varsity letters for swim team both years. That sounds impressive until you find out that it was a small private school and I was usually one of two swimmers in the distance races. Those second place ribbons really add up. I also played JV football until I realized that I was better at the drums and switched to band. I swam in high school but didn't letter because by then I was on a team with depth. In college I played intramural basketball and ultimate frisbee. In grad school I rode with the Mohawk-Hudson Wheelmen in upstate New York, where I peaked with a 4:56 Saratoga Century. I thought I would ride all the time once I moved to sunny Southern California in 1993, but the traffic, the job and finally 2 kids left me at a lethargic 250-260 pounds by 2001. I realized that I better do something if I was going to be around and healthy for my grandkids. I joined WeightWatchers and then started walking downstairs at work to go to the bathroom.

Craig: How did you get started with triathlons?

Chuck: I wrecked my car in Spring 2002! I am proud to say that I still haven't replaced it. That forced me back on the bike consistently. Our whole family (Denise, Alison 5, John 2, sister-, mother-, and father-in-law) did the Carlsbad 5000. Afterward, we all went to the pool at the Olympic Resort. Since there were so many adults, I took advantage of the opportunity to swim some laps. The fitness center was managed by Joao Silva, who had put up posters for the Carlsbad Triathlon. Hmm... I had just done the equivalent of the swim and the run, and I liked to bike... The rest, as they say, is history.

The Olympic Resort is closed now, but I am doing the Challenged Athletes San Diego Triathlon Challenge with Joao this October. Steve Pierce and Doug Poorman (of Poorman Triathlon fame) were instrumental in getting me out past the breakers. Mike Plumb got me going on the track (I was never a runner) and first inspired me toward Ironman with his website's description of the Ironman Revisited. I did my first group rides with the Camp Pendleton Triathlon Team, and still try to ride with them when I get the chance. I stumbled into TCSD through Brian Long who motivated me to help out and organize swims and 'preview' triathlons whenever I can.

Craig: What Ironman races have you done and how did you do?

Chuck: I did Ironman Arizona in November 2008 in 15:30 and Hawaii (formerly 'Ironman') Revisited in August 2009 in 18:15.

Craig: Tell me about your experience at Ironman Revisited?

Chuck: For me, this event sums up what triathlon is all about: you against your limitations. When I say 'you,' however, I mean that in the plural sense: you the individual, plus your support network. The core of my network is my family and around them I have the triathlon club, my remarkably flexible employer ViaSat, and a great network of encouraging friends. It doesn't get any better than that!

When I talk about limitations, I don't just mean me and my challenges in finding training time, etc. Those details are pretty easy when you're in the greatest club on the planet (which also happens to be a triathlon club). In the Revisited triathlon, like in the original Ironman, you provide your own crew. In my case, that's my family. Let's see, I have a wonderful wife who is a great driver, but is, for lack of a better term, directionally challenged. I have an 11 year old daughter who is really good with computers and an 8 year old son who is really good at everything, especially sleeping.

For Ironman Arizona, I had really worked on my bike speed and even previewed the bike course ahead of time. For Revisited, I realized that I didn't really want to burn through the bike course, because then I would be running in the hottest part of the day! That actually inspired me to do a lot more distance riding, resulting in an incredibly epic train ride with Danny Hyte and Jodi Hays. We took Amtrak up to LA Union Station, rode up the Hollywood hills to the Griffith Observatory, down to Hollywood (Danny fought through the pre-funeral crowd to get his picture taken at Michael Jackson's star) and then down the coast. After four flats, we couldn't even make it all the way back before dark and had to hop another train. That inspired me to bring 3 spare tubes, a patch kit, and an 'anything can happen' attitude to Hawaii.

In Hawaii, we pre-drove the entire bike course and even did the complicated end of the course twice. As well, I fitted myself with a GPS tracking system and outfitted the car with a cellular modem and GPS system. John got to ride in the front seat of the minivan and Alison was in the second row bench with the computer at her side. Of course after all that, the biking went incredibly smoothly. My crack crew actually took a break on the north shore to swim at Shark's Cove after feeding me a quick lunch.

Once I finished the bike course, John and I walked the first 5 miles through Waikiki to our hotel, where we found the girls swimming at the beach! I ran the next 6 miles or so, and they quickly caught up to me in the van. The mostly walking marathon went well, although I did suffer some mean blisters that still bother me almost a month later. The next few hours are a bit of a blur, although there was a little issue on the marathon course when I lost my crew for a while. I stayed on the route, however, and they caught back up to me just fine. By this time, John was asleep and Alison was watching movies. I do remember getting a little delirious, chanting 'Forks and knives, forks and knives' over and over again.

Finally we made it back to the hotel where Bob Babbitt, Rick Kozlowski and the great CAF crew were waiting for us. As wonderful as it was to finish, I have to say it was a little like my Ph.D. thesis defense. For both, I realize that the event itself is almost anticlimactic. The Ironman really began on the day I signed up. The event itself was just a test to see if I had done all my homework. The 'hole in the head' trophy is just another diploma.

Craig: What message would you like to share with someone who is considering their first triathlon?

Chuck: Sign up! There is nothing more motivating than having a date circled on your calendar. Work backwards and plan out your route. That triathlon starts NOW. The other advice I give is to not over-train on the run. Realize that you can do an Ironman without doing all the mileage that Craig advises in the training plan. Just don't expect to get up on the podium unless you volunteer to clean it. I figure that if I get injured, I'm not going to finish anything.

Craig: What other activities in the community are you involved in?

Chuck: I do everything I can to support science and engineering education. I am on the technology committee at the kids' school, which means I spend a lot of time blowing the dust out of old computers. I am amazed at the dedication and appreciation shown by the wonderful teachers there and always come away with a huge smile on my face. At the University of San Diego, I am an adjunct professor and also serve on the Engineering Advisory Board and chair the Electrical Engineering Advisory Board. My favorite event is probably when I get to help judge middle school robotic contests at Legoland. How cool is that?

Craig: Family is clearly a huge priority with you. How do you fit in time for family with all of your other responsibilities?

Chuck: I don't think I could do it without a great family to support me! When possible, I try to come up with training events that are fun for everybody. For example, we'll drive up to San Juan Capistrano with our bikes and ride together a few miles down the river trail to Doheny State Beach. From there, I'll ride back home and they will ride back to Capistrano to visit the petting farm. We all get home about the same time. This week we went to the beach and Denise went running while I swam with the kids. You see, she signed up for her first triathlon, the Mission Bay Triathlon next month...

Craig: I know you have crewed for a RAAM team in the past. What is RAAM?

Chuck: RAAM is the bicycle Race Across America. It goes 3,000 miles from Oceanside to Annapolis, Maryland. There is only one 'stage' so the clock is always running as you cycle a fixed route with checkpoints along the way. Originally a single person race (8 days or so if you want to be competitive), it now has divisions for 2, 4 and 8 person teams. Especially for the teams, the race is a serious logistical as well as physical challenge. ViaSat has had an 8 person team for the last 4 years.

Craig: Take us backstage with RAAM. What things did you learn that you could only learn by actually having a hands-on experience?

Chuck: That's a whole other newsletter's worth of material... You certainly learn just how big this great country is. I would like to encourage any interested readers to contact me directly about the experience. Maybe you can get involved next year.

Craig: What is your favorite TCSD story?

Chuck: One Friday morning, it was way too foggy to swim at Fletcher Cove, so of course we swam anyway. I was late getting out and just followed the group trying to catch up. I never seemed to get any closer, but I didn't worry (at first) because I figured that they would all be coming back eventually. After a while, though, it seemed like we kept getting further and further from shore. Eventually I got nervous and gave it everything I had. I did catch up as the sun came out, showing me ... a flock of birds. I had headed almost directly out from shore, too. Another foggy day at Fletcher I was counting heads on the way back in. 1,2,3,4, OK. 1,2,3,4, OK. 1,2,3,4, 5, huh????? It was a seal. I sprinted the rest of the way in and never looked back.

Craig: What are your future goals with triathlon?

Chuck: My goals are to stay healthy and keep having fun. I also want to support my family in their triathlon adventures.
Craig: Chuck, I knew you would be a fun and very worthwhile interview. Thanks for sharing your story and helping all to keep the fun and healthy perspective!
Craig is a USA Triathlon Level 1 Coach. He can be reached at 760-214-0055 or tricraigz@yahoo.com.