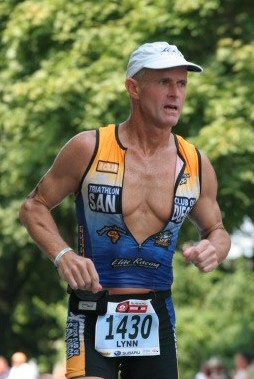 I had the pleasure recently of talking triathlon with long time TCSD member, Lynn Trimble. Please join me as we all get to know a great guy who has unselfishly given tons to our club over the years.
Craig: What was your sports background prior to triathlon?

Lynn: Prior to Triathlon you have to go way back. Sometime after the Jurassic period I played football for 3 years in High School, believe it or not as an Offensive Lineman. I was a wee bit heavier in my younger years and did a lot of weight lifting even winning a few lifting competitions. At Cal Poly SLO I played club rugby.

Craig: What was your first triathlon like?

Lynn: My first triathlon event like many newbies to the sport was Mission Bay in 1995. With an old Nishiki road bike and without any spandex or Easy Laces I managed to finish in 1:12. No podium finish for me but it inspired me to buy a new road bike, dress in spandex (for the race Craig, not all the time), sign up for the San Diego International and eventually join TCSD.

Craig: What Ironman races have you done?

Lynn: I completed California in 2001, Coeur d'Alene in 2003 and Canada in 2006. Note the trend, all races starting with a "C". Am I destined to do China in the future?

Ironman California was a successful first Ironman for me and Andy Friedl, my training partner. Our goal was to break 12 hours and we crossed the finish line together with a few minutes to spare (11:56). The following day at the Ironman breakfast we could barely walk.

Ironman Coeur d'Alene was a first time Ironman for the city in 2003. Other firsts for that day included record high temperatures for the area and the highest attrition rate ever for an Ironman. I learned what it was like to run in temperatures exceeding 100 degrees on many parts of the run course. But Mike Plumb, my Ironman coach, had prepared me well and I managed to set a new PR at 11:49 and finish near the top of my age group.

You might think that I choose Ironman Canada because of the attractive one lap course, the picturesque scenery, or the friendly atmosphere of Penticton. Nope, it was none of these, but something much more emotional and enlightening. The one thing Canada had in common with Kona was the chance to run the streets of Penticton before a cheering crowd dressed only in my BVDs. Yes, I am talking about the underpants run. Mike Olson, Barb Olson and I had a fun time. As a prior competitor you know the feeling Craig. There is talk of Kona qualifying slots for the underpants run and I am ready. Bring it on! (http://www.youtube.com/watch?v=OTPyQUaq-Lk)

On a more serious note, my goal of going under 11 hours at Canada was derailed by a bad nutritional plan (see Ironman tips below). My swim (1:15) went smooth but a bit wide on the corners as I attempted to avoid the masses. The bike was a fast one for me averaging 20 mph. This put me on the run course in about 7 hours needing a sub 4 hour run to make my goal. The first 8 miles went well averaging close to an 8 minute pace and feeling strong. However, I had gotten by on about 6 gels since the start of the race and the lack of calories started to have an impact on my performance. I reached the half way point with the opportunity to still make my 11 hour goal, but by mile 14 nausea suddenly set in and my stomach did not want to participate any longer. A combination of running and walking eventually got me back to the finish line in 12:35.

Craig: What has your Ironman experience been like and is there another Ironman in your future?

Lynn: Crossing the finish line is just a small part of the entire Ironman experience. The one thing I remember most about my Ironman races is all the great moments with friends and family. Canada was one of those fun times. Mike and Barb Olson became enthused about Ironman Canada after attending one of your Ironman Dinners in 2005. The Olsons along with TCSD members Andy Friedl, Gina Sample, and Katrin Szardenings signed up. Not wanting to be left out I also made the commitment to race Canada. I understand we rented the same house in Penticton that you had the previous year. The underpants run, tubing down the local river in addition to all of us successfully finishing the race made the experience all the more enjoyable. My wife Gail and I also had a wonderful vacation in the mountains of Western Canada following the Ironman.

For the future, Mike Olson and I are considering Ironman Germany. I wonder if they have an underpants run?

Craig: You've been in the sport a long time. What have been some of the funnier things you have witnessed?

Lynn: My personal Ironman tips that you will not see in Triathlon Magazine include:

#1. Do not wave at friends and family while riding the bike. I did this at the 2001 California event. It was at the halfway point of the bike where you rode past a long row of battle tanks, under a huge Ironman banner and then make a hard right turn in front of hundreds of cheering fans. The adrenaline was really flowing for me, a first time Ironman competitor. I remember lifting one hand from the aero bars just briefly to acknowledge the cheers. I realized this was not a smart thing as the front wheel began to immediately shake. Within a split second I did a forward dismount off the front while the bike did a perfect 720 double in the air. The crowd suddenly went quiet. Was he still alive? The adrenaline kept me from feeling any pain as I quickly mounted my bike and rode off feeling a bit embarrassed. At the time I thought the incident had to be right up there with the ABC Wide World of Sports intro where the skier goes off the side of the jumping ramp. I hoped nobody caught that on video. The next day I noted that my helmet was split from end to end in two places.

#2. You probably have heard this one a million times when training, "Do not change your nutrition for the big event" I went to a lot of trouble to have what I thought would be a big boost for me at the run turnaround during Ironman Canada. I had purchased a small cooler and stocked it with an ice cold Starbucks Frappuccino for my run special needs bag. At the turnaround the aid station worker was amazed when he saw me pull out the still frosty cold drink from the cooler. Boy it tasted good going down, but I should have known that dairy products and strenuous exercise do not mix. By mile 14 I was not feeling good and by mile 16 I was bent over by the side of the road. It turned humorous at mile 21 when again I was bent over a storm drain emptying what little was left in my stomach when a group of 90+ year old retirees watching the race from lawn chairs yelled out "looking good".

Craig: You have also excelled at the Xterra triathlons. When did you start doing the off road style of racing?

Lynn: I discovered Xterra in 2001 when I entered the Big Bear event along with Greg Zackowski. We had no idea what we were in for. 1,500 meters of swimming and running in the mud because the lake was low that year followed by multiple trips up and down the mountain both biking and running. It was an 800 ft vertical climb and you did multiple laps. It is not often you see pros battling for first place on the run with their hands on their knees to help them climb the face of the mountain. I recall my run pace of just under 11 minutes per mile on the 10k course put me in the top of my age group, not something you would expect.

The small race field (maybe 250 racers), the short anaerobic nature of the event, the low cost, great post race food and freebies and all the camaraderie made me want to continue doing Xterra. This year a number of TCSD members along with me will be trying to qualify for the Lake Tahoe Nationals. They include Dave Krosch, Dean Sprague, James Walsh, and Greg Zackowski. Two long time TCSD members and Xterra World champions are Peter Wood (60-64) and Hans Dieben (65+).


Craig: What have been your best Xterra performances?

Lynn: In 2006 I was one of four in my age group to qualify in the Southwest USA for the Xterra Nationals in Lake Tahoe. My particular age group in the Southwest division is a tough group of competitors with two national and world champions. James Walsh and I made the trip to Tahoe and despite my slow start in the cold lake at altitude I finished 8th in my age group. The bike course is probably the most scenic course I have ever raced climbing 1,000 feet to a narrow old flume trail along the cliffs overlooking Lake Tahoe.

A month later I made the trip to the Xterra World Championship in Maui along with Dave Krosch and James Walsh. The no wetsuit swim was remarkable as cameramen and sea turtles hovered in the water below the mass of swimmers. The bike course traversed sharp lava rock leading to more than one racer entering T2 on flat tires or in some cases no tires or tubes. The run was the most torturous for me; heat, humidity, steep hills, and more lava rock and then out to the deep beach sand before reaching the finish line at a beautiful beach resort. I was happy to finish 12th in my age group.

Craig: What suggestions do you have for someone wanting to try an Xterra?

Lynn: Many TCSD members have taken on the Xterra challenge and I strongly recommend the Xterra race series to all triathletes. Two local race opportunities include the Western Xterra Championships in Temecula in May and an Xterra event at Snow Valley near Big Bear in August. The Temecula event offers a shorter distance Sport division for those not up to a full race. The Snow Valley event is one of the shorter events on the schedule so it is also a good first time race opportunity. The races tend to be 2-4 hours in duration but require a bit more anaerobic activity in my opinion than the traditional road triathlon. The swim is a mass start like Ironman but races are typically less than 300 competitors compared to 2,000 at Ironman. Xterra bike courses are not overly technical consisting of mostly fire roads and single track, however, Xterra always tries to maximize the elevation gain on both the bike and run and incorporates as many obstacles such as trees, rocks, and sand as possible on the run. It is hard to get bored in an Xterra race as you are always focused on the next obstacle.

Craig: You've been very involved in the Tri Club. What have been some of your club duties?

Lynn: I joined the club back in 1997 when there were probably 250 members. Early on I became frustrated with the time it took to publish the club race results. I volunteered to take on the responsibility. It was a very time consuming process and if the results were not 100% accurate you would hear about it quickly. I convinced Jim McCann to invest in the Palm timing system and that combined with spreadsheets I had developed made for a very successful system for many years.

Since the race results were closely linked with the Grand Prix competition and the club roster I took on those tasks, as well, which included handling all the member applications. I also became active in updating and improving the new TCSD website. The new website combined with a number of other changes implemented about 6 years back resulted in the club expanding quickly from about 200+ members to one now approaching 2,000 members. My time devoted to the club also seemed to grow proportionately to a point where I realized I was overcommitted. Automation and improvements like the new chip timing system by people like John Hill have helped to reduce some of the workload for the TCSD volunteers. Also key has been the number of club members that have stepped forward and volunteered to help in many of the functions necessary to keep the club working smoothly. Craig, you are one of those contributors that have been key to the success of TCSD.

Craig: What are your racing plans for 2008 and beyond?

Lynn: 2008 will possibly be the first year since 1998 that I have not done at least one Half Ironman. For 2008 I plan to focus on the Xterra series in hopes of returning to the National Championships. I have at least five Xterra races on my calendar this season along with some new training events such as Sea Otter and Counting Coup, a 44 mile MTB event with 8,000 feet of climbing which I and other fellow TCSD members recently completed.

Craig: How has your family handled your triathlon habit?

Lynn: My incredibly patient and tolerant wife of 25 years, Gail, was actively racing local runs long before I became involved in triathlon. I did eventually learn the names of my two daughters despite my busy training and race schedule. Both daughters, Erin and Erica, became involved in triathlon. Being both a swimmer and a cross country runner, Erica has been very successful in local triathlons including a first place finish at Mission Bay and podium finishes at most triathlons she has entered including San Diego International, Spring Sprint, and the Reebok Women's Triathlon. She is also a very competent mountain biker. My next goal is to get her to race Xterra.

Craig: What do you do for a living?

Lynn: I work for San Diego Gas & Electric in the Beach Cities District Office on Santa Fe Street where I supervise a team responsible for keeping the lights on from Point Loma and Mission Valley in the south to Highway 56 in the north, and east to approximately Highway 15. My team consists of both highly skilled troubleshooters and engineers who respond night or day to power outages. Luckily we have one of the most reliable systems in the country so I do not get called on too many late nights. One unique responsibility of mine is to be on the field at Charger night games in case the power goes out.

Craig: Lynn, thank you so much for sharing your story. You have a great sense of humor. I'd agree with those seniors from Canada – you are looking good! Good luck with all those Xterra races as well as all your other 2008 goals. And thanks for everything you have done for TCSD!