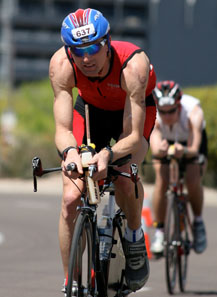 I had the pleasure recently of talking triathlon with the TCSD's very own Brian Scott who qualified for Ironman Hawaii with his stellar 9:26:53 performance at Ironman Arizona. Please join me as we get to know Brian.
Craig: What was your sports background in school and as a young adult?
Brian: Let me preface this with I have asthma and my doctor said I needed to stay active as a kid so with a single parent mother I took it to extreme. Growing up I played "normal" sports: soccer, basketball, baseball as a kid. Then in junior high I started running track. I was really slow back then. I moved onto cross-country/track for my freshman year. However, I didn't get along with the coach. So, I played tennis for 3 years and got involved in cycling.
I had always wanted to ride a bike since I watched the 84' Olympics. I thought those track bikes were so cool. I started watching the Tour de France on ESPN and Paris Roubaix back when it was on ABC. In high school, I meet a guy who raced and he got me a deal on a bike. I raced my senior year in high school through college. I did OK. I was a Cat 2 and qualified for collegiate nationals a few times. I was road racer. My sprint was slow and ugly. However, if the race was hard and long I was going to have a good day. I started running again as a sophomore in college with Troy Moon who turned into one of my best friends to this day. He is ridiculous fast and our personalities are scary similar. I did a duathlon and really enjoyed it. I tried to learn to swim but just couldn't so I gave up. I mainly raced bikes but did a few duathlons. After a second failed attempt swimming, on my third try I discovered a pull bouy and from there got it.
I started triathlons my Junior year in college. I was running with a group out of Run-Tex in Austin and met James Bonney, Todd Gerlach and a host of other talented triathletes. I have to say, I was very fortunate when I started with riding and triathlons. I got involved with people who really knew how to train so I didn't do a lot of the typical stupid stuff. In grad school, I burned out on riding and just ran for 3 years.
One day, I got injured running and went for a long bike ride. I was living in Santa Barbara at the time and it went great. Suddenly, I remembered how much fun it was to ride. I entered the SB long course triathlon and after almost 4 years off ended up placing in my age-group and top 10 overall. I swam like a brick but managed to run and ride my way to an award. The next month, I joined Troy on a rim to rim run across the Grand Canyon and he started talking about how much fun he had at IM California and I should do it. I signed up when I got back.
Long story but I ended up 4th in my age-group, over an hour faster than I thought and wondering how I was going to pay for a trip to Kona. I knew I had found my niche. I wish it was short course but I have always been a distance guy.
Craig: What was your first triathlon like?
Brian: My first triathlon was pretty uneventful. I completed an Olympic distance race in Grand Prairie, TX in 1995. I finish 4th age-group and the only memorable event was walking part of the swim because the lake was low and part of the swim went over a sand bar. It was the early days of triathlon so I wore a speedo and no shirt. Talk about an image no one needs in the head.
My first multisport event, was a duathlon just north of Houston. I did it with a friend from college. We stayed at her parents place and it was a bit more of a learning experience. I ate a big breakfast, similar to what I would do before a long bike race. Well, let's just say running and big breakfasts are not a good combination. I ended up vomiting on the bike a couple times and struggling through the run. Somehow, I managed to win my age-group (I think there were only 5 people in it so no major accomplishment) and did OK overall. I got this great plaque that was in the shape of the state of Texas painted the colors of the TX flag. I miss the Texas mentality at times---I am from Texas first and the USA second.
Craig: What Ironman races have you done and how did you do?
Brian: I have done way too many IM. These times might be off a little but I will do my best.
2001 IM California; ~ 9hr:45 min; 4th age-group, 37th overall
2001 IM Kona ~10hr 10 min; 145th overall; age-group?
2002 IM USA Lake Placid 9 hr 35 min 9th overall, 1st amateur and 1st age-group
2002 IM Kona ~ 9 hr 48 min 117th overall, age-group ?
2003 IM Wisconsin 9 hr 57 min; 3rd age-group and 17th overall
2004 IM Kona 10 hr 49 min; way back overall---long walk home on the run—reality check
2005 IM Couer d'Alene 10hr 2 min; 71st overall
2007 IM Canada 10hr 18 min; ?? overall and age-group
2008 IM Arizona: 9 hr 26 min; 19th overall, 2nd age-group, 5th amateur
2008 IM Kona TBD
Craig: What was Ironman Arizona like for you this year?
Brian: As you can tell from my result, I had great day. I went into the race hoping for a Kona slot but knowing anything can happen. I think about 3 times as many people are capable of winning a slot as slots are available. So, depending on how well your day goes you either win it or not.
The bad news about an early IM is that it was my first triathlon of the season. I had done a bike race and a couple half-marathons that went better than expected, however, no triathlons. Additionally, I went into the race with a solid base foundation but way low on intensity so I had some question marks in my head.
The swim went well. I was able to get a little warm-up in swimming to the line and find a nice place relatively close to the shoreline. They held us for what felt like an eternity after the pros started and as a result it got really crowded on the line. I managed to get out strong and find some clear water without too much wrestling. I stayed in control for the swim and just focused on keeping a smooth turn-over and staying out of the chaos. I exited the water in just over 59 min feeling strong.
As I headed out onto the bike, my heart rate was a little low. I knew that meant I swam a bit too easy but oh well that time is gone so don't worry about it. The bike was three loops and there was a lot of wind. I am a big fan of having a solid plan and mine was pretty simple. Start slow and let my body adjust to the bike and then gradually start to pushing as the ride goes on. Additionally, the wind made the process easier because I was going to ride at about 30 watts and 5 beats per min higher into the wind than with at my back. I knew from my cycling background that you can't gain a lot of time in a tailwind but you can get a lot of rest and use that rest to put time on people into the wind.
With my plan in place, I was off. The first lap I was mingled in with a lot of other riders and had to be careful not to be in the wrong place. I am always amazed on how hard athletes go out. I was passed like crazy going on the first lap but I knew it was a long day and stay calm. The second lap I stayed on plan and started to move through a series of athletes and started lapping other triathletes. As I finished the second lap, I pricked my finger on my shifter cable. I thought that is not good. I am going to break a cable and then I will be in trouble for the last lap. I reduced the amount of shifting and just hoped to make it through the head wind. Everything managed to hold together through the wind and I made the turn for home with a big sigh of relief. The last couple of miles I took it really easy to get ready for the run. I took a quick body check before hopping off my bike and everything felt OK. I had been pounding salt tabs every 20 min and controlled my eating/drinking with the heat and everything appeared to be digesting. My legs felt a touch tight but no major cramps and considering I had been exercising for over six hours what else would you expect.
After a quick pit stop, I was off onto the run. Once again, three loops and my plan was similar. Loop one and two, just run easy, then push loop three. As I headed out onto the run, you run past the arts center and through a parking lot. I have to admit I have never been so nervous. I didn't see anyone! I went past a couple mile markers but they were for the other laps so I was beginning to lose it. About the time I was ready to be committed, I saw another athlete and the first mile marker. I was going the right way, relief. I got my mile splits over the next two miles and they were in the right range, 6:30's to 6:40's. I wanted sub 7 min and over 6:20 so all was good. I felt relaxed so I stopped checking my splits and just ran.
The first two laps went by pretty smooth. As I finished the second lap, I ran past a guy in my age-group and I felt strong so I started to push. I felt great for the next few miles and then I made a couple mistakes. I stopped cooling myself and over heated. Around mile 20, my head felt like it was going to explode. I started cooling myself down and dramatically slowed for the next few miles. I was passed by the guy I overtook at the beginning of the lap but didn't care. I was hoping to finish and having thoughts it might not happen. After about 3 miles of dousing myself with water and ice and taking a lot of salt and some Motivator tabs, I started to come around and finished strong. I made the turn for the finish line and saw the pro women celebrating and the clock. I don't know what was more surprising, getting a champagne bath or the 9:26 on the clock. I had no clue I was going that fast. Despite wearing one watch and one heart rate monitor, I never look at my overall time. I focus on the mile I am at and never the full day/segment. An Ironman is too much for me to focus on, however, a few miles or steps I can deal with.
Craig: You are a humble guy, but I want you to brag a little. Looking back over your entire triathlon career, what race was your best and gives you the most pride?
Brian: I would have say, Ironman USA. Going into the race, I felt a lot of pressure. All of my training partners had qualified for Kona and I had just missed it at California half. I was leading from mile 7 to mile 12 on the run and got caught! At Lake Placid, I wasn't having a good day and wanted to quit on the bike. It was my third IM and while I had suffered on the other two this was the first time I had the big highs and lows. However, everything came around as I came up the final climb. I never thought I would say I felt better going up a hill at mile 107 then I did going down a hill at mile 5, but I did.
It had rained and it was somewhat hot and very humid. On the run, all my competitors exploded and I managed to run 3:09 with a bathroom break at mile 2. I moved from 50th overall to 9th. I was the first amateur and won my age-group. I remember passing Joe Bonnes on the run and thinking what do I do when someone catches me. Fortunately, it didn't happen. I think being the first amateur at any race is a huge accomplishment and I did it on a day where not everything went well and against a great field.
But to go back to the modest part. At the awards ceremony I was talking to the guy across the table from me and I think he wanted to kill me. He asked how I did and "I finished, how did you do" He went off into a long story about his race and he asked me when my next IM was and I said I managed to qualify for Kona. He then asked if I won an award. I said "I managed to finagle my way onto the podium". He then looked through the finisher newsletter and asked if I was Brain Scott the guy in 9th. I said yeah. The look on his face was a priceless mix of anger and confusion.
I prefer for most athletes not to know how well I did. Many people are less likely to share their stories if I they think I am faster then they are. In my opinion, you finish you finish. All the athletes go through a similar struggle. Some maybe push a little harder but every race is hard for everyone and half the fun is talking about the race.
Craig: You are a big advocate of heart rate and power. Tell us why this works so well for you and for others.
Brian: For the record I am not a certified coach and these are strictly my opinions. Now, let me grab my soapbox. I strongly believe that most athletes don't have a strong sense of pacing and the variety of gears you need to train properly. I have trained with a heart rate monitor since I started riding a bike in high school. Over the years, I have found it to be a very valuable training tool. Not useful at all for bike racing but great for triathlons. A few years ago, I moved up to Chicago for a postdoc at Northwestern and I found myself trying to find new courses two months before Kona. At the time, I got a killer deal on a Powertap. Immediately, it clicked with me. It gives you immediate feedback. A hr monitor is good but your hr lags behind your power. Further, if you go up a short hill your power will go through the roof, but your hr will not respond until the flat part afterwards and much less. A better example, is on a long climb. Most people will max their power at the base and then struggle up the climb. You get to the top by averaging the highest power. I can't tell you the number of times I have gone into a climb to get blown by at the base. However, by the time I hit the top most of the other guys and gals are gone. If they would have been a little bit more conservative at the base they would get to the top quicker and be better off. The other advantage is providing feedback to prevent over training. When you can't produce the power you should be able to, it's time to cut the workout short and go home. That's hard to do on feel if you're a motivated athlete.
For triathlons, last year was my first year to race with power. I picked up an Ergomo and really like it because I can run any wheels with it and it cost about half a SRM system so closer to my budget. I strongly feel that in a triathlon, you have to stay below your threshold power. Every time you go over it, you take a little bit out of your legs and if you do it enough you kill your run before you even start it. The catch is, it is so easy to go too hard. If you try and hold the same speed going up a hill your hr will only go up a couple beats but I can watch my power go from 250 to 400 watts. Let's just say even if you are only at 400 watts for a couple seconds I feel it takes a seconds off your run by pinging your legs. If you do this ten times on a bike I think it will cost you minutes on the run and if you spend too much time above your threshold, you are done.
The other important aspect of racing with power is that you can fully monitor your effort. I actually use both hr and power. They are strongly correlated but I can see if I am working too hard. Just because I think I can hold a certain power doesn't mean I can on that day at that time. If am hurting I can use these gauges to help me pull out of a bad spell before I fall off a cliff. The other important aspect is you pace the early segments of the bike. Many people get caught-up with the large crowds or try and make-up time lost in the swim on the bike. For the record, once time is lost it is lost. Forget about it and focus on the next segment.
If you go too hard the first 20 miles of an IM bike, you will not realize it until mile 80 or even the run. I strongly believe that riding 10 min too fast on the bike can cost you 30 min or more on the run. Another advantage of power is that it will help you to maintain focus. In a half or full IM, it's easy to mentally drift on the bike. If you do, you can lose seconds or minutes depending on how bad you lose focus. With the power meter you have something to think about. Personally, I try to increase my power as the day goes on. I do the same thing on my training rides. I would go out about 30 watts lower than I would come home. Before power, I would do the same thing with my hr. I would start at one hr and at mile 20 go up another 5 beats. I would ride that hr until mile 80 and then go up another 5 until the finish. I do a similar thing with power starting at one wattage. Then at mile 20 I bump up the watts by a certain increment that suits me. Then at mile 80 I bump it up again to the finish. The power meter takes away uncertainties associated with cardiac drift.
While I do know several athletes that do not race with either, most of them have a lot of experience. The vast majority of people would greatly benefit from the schedule and the feedback. It really helps to keep you under control and give you confidence you are executing your race plan. One of my friends did IM Arizona last year and he did it on feel. When you listen to him tell his story he road "easy" but died about mile 14 on the run. Of course, he blamed his nutrition. Judging from his bike split I felt he went too hard on the bike and then was cooked before he even started the run.
In my opinion if you blow-up before mile 18 on the run you either rode too hard or ran too hard. I think most people's nutrition is closer than their sense of pacing. After several long conversations, I convinced him to race with a hr monitor. As an aside, he trained with a powertap and loved it but felt he could control himself when he raced. Yeah right, controlling your ego training is much easier than racing. He did the rest of the season with a hr monitor, had a great season and qualified for Kona at Buffalo Springs. He kept a similar nutrition pattern at Kona only now he paced the bike on hr not perceived effort and finished a couple hours faster than Arizona and felt strong. I think many triathletes could benefit from at least a hr monitor if not a power meter. I could go on and on about this topic just find me and I will talk you ear off.
Craig: What is the funniest thing you have witnessed first hand in triathlon?
Brian: The funniest thing I witnessed was at IM Lake Placid. The day before at the warm-up swim one the racers in the CEO challenge put his wetsuit on backwards. He was about to get into the water with his zipper in the front until someone stopped him. I think everyone saw it because they pointed it out at the pre-race dinner.
Craig: What is your best race story?
Brian: That happened while I was racing bikes in college. I was riding state championships in the Category 1,2,3's. At mile 36 of 104 I broke a shifter cable. My teammate and good friend then and now who raced the day before in the Cat 3's, was right next to me. He offered me his bike. I took it. However, we had different pedals so I had to get his shoes. Sounds OK, expect for that fact he was 4 inches shorter than me and feet were 3 sizes smaller. We moved the edge of the field and stopped. I jammed my foot into his shoes, hopped on his bike and chased down the field. I got a set of allen keys in the feed zone and had a friend help me to adjust my saddle while riding. He had shimano and I had campy shifting so I spent half the time misshifting and trying to get used to his bike. Somehow I ended up 12th overall and in the money at the end of the day. I bought lunch on the way home and have a story to this day.
Craig: Who is your hero and why?
Brian: I would have to say, Don McKinley. He was my sister's neighbor growing up. He is a lawyer, regional director, for the FDIC in Dallas. He has a wife and two great kids I have been fortunate enough to watch grow up. The oldest one started college this year I feel old because I remember him as a baby. He took the time to help me growing up when he didn't have to. He taught me to play tennis, took me out to eat and treated me like a member of his family.
He was my father figure growing up. He challenged me to dream big and filled me with encouragement that I could do anything. He always kept me on my toes and would challenge my thoughts and really forced me to expand my mind. He is a big part of why I went to graduate school and have a PhD in chemistry. It's actually funny because he knows I play around with triathlons but I don't think I ever told him I won anything. However, when he tells me good job it sends tingles down my spine. If I can look back at my life in 20 years and be half the person he is I will consider my life a whopping success.
Craig Do you have any sponsors?
Brian: I don't have a lot of sponsors so if you are reading this and looking for athletes let me know. I do have Rudy Project sunglasses. Additionally, I am part of the Ranchos cycling team in Escondido and I get a few deals through those guys.
Craig: What are your triathlon goals after Kona this year?
Brian: First and foremost finish. I think a great day would be top 100 overall. I have been close a couple times but haven't had a good run on the big Island so hopefully this will be my year.
Craig: We wish you the best of luck at Kona. You have already made the TCSD and Don McKinley very proud!