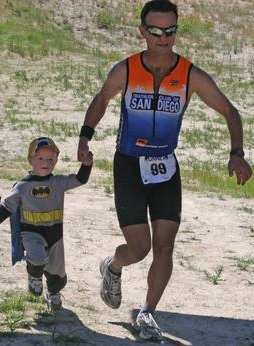 I recently sat down with long time TCSD member, Dave Krosch, and talked triathlon. I think you will enjoy this as you will find this old timer grows on you…
Dave: I'm glad you finally decided to talk to one of the old timer's in the TCSD. I only had to wait 16.5 years! A lot of current TCSD'rs probably don't intimately know me unless they do Xterra or MTB (mountain bike). I don't do many club races anymore though after I first joined I did every single one and finished in the top 10 in the Grand Prix probably 5 years in a row. Now, with a 4.5 year old (I am now 47, I was a late starter), my time is squeezed. I rarely make the meetings. One of these days I'll show up for a club race with one of those fandangled little things you put on your ankle we have to now buy and beat up on some youngsters!
For the readers, Craig is one of my oldest TCSD friends. We've had some epic races. In the days before Craig took his swimming and biking to new heights, I used to out swim him, out bike him, and then pray he wouldn't catch me on the run. Actually it worked out Craig beat me 80% of the time, but of course my most memorable "Craig stories" are the ones where I prevailed.
One of my favorites was when we went up to the Seattle Marathon (Craig may remember the date, but seems to me it was 1993 or 1994). We went up with former TCSD prez Bob Doyle and some others. It was freezing cold so we didn't warm up much and stayed on the buses until the delayed start arrived. I started fast and at about mile 14 Craig and Bob show up. Bob leaves us in the dust but Craig stays with me but is totally annoying. His breathing is really weird and sounds like he has TB or his lungs are all messed up. I ended up digging deep to leave him because I thought he was going to die and it was extremely disconcerting. Craig finished and we never did really figure out what his whole "death rattle" thing was...
Craig: I checked and that was 1994 when you gave me the whooping at the "Battle in Seattle". What was your athletic background prior to triathlon?
Dave: As a kid I played a lot of football and baseball. Soccer was non-existent as a youth sport when I was a kid. I carried baseball and football into high school, but only for one year each. I played 3 years of tennis and was basically a beach bum, body surfing and partying my way through the latter part of high school and into the first 1.5 years of college. I always ran to keep in shape for other sports.
Craig: What was your first triathlon experience like?
Dave: My first tri was as a relay at S.D. International in 1986. My aunt had been doing some swimming and she was going to swim. She swam with a guy who wanted to run. That left the bike. I broke my old Sears Murray out of my grandfather's basement, put two new tires on it and road it around Lake Murray a few times. What I found out is I had an affinity for cycling. It was immense fun. I don't remember where we placed but I did the whole thing the next year in 1987 without having swam a yard. Again, don't remember where I finished, but I passed a ton of people on the bike and run. It was at that time I became a Biathlete (now called duathlete), though I did keep racing S.D. International just to see how painful the swim would be without practicing that discipline.
Craig: What are some of your fond memories of your early days with the TCSD?
Dave: I was doing run-bike-run (bi/du) racing including the Bi (Du) World's in 1990. A guy I worked with had joined the TCSD. He said you should join. I wasn't much of a "joiner", but joined back when Gurujan Dourson was president. I joined at a meeting held behind Scott Tinley's old retail store in Del Mar in October 1991. I thought the club was huge back then with around 200 members! It was shortly after this that this same friend said he was going to something called Wildflower in 5/1992. Did I want to go? It was January and remember: Homey don't do water at that point! I stupidly say "sure". I join the old Center for Sports Medicine masters program and bust out 3.5 months of swimming. I end up finishing my first Wildflower (46 minute swim for total 5:46 race) but swore I would never do one again. I did 9 more including my best, 5:08 and improved my swim to 29 minutes.
Craig: What positions have you held over the years in the TCSD?
Dave: The only position I formally ever held was as Race Director back in 1993. It was a headache because we were low tech and the ranger at Fiesta Island always was looking to hassle me. "But Mr. Ranger, it's not a race. It's a training event." Oh, how many times I said that. The current situation with permits and electronic timing is much better. My wife, Jeanne, a TCSD member back then, was Social Director in 1994. Currently, Terry Hedgecock and I put on the Iron Mountain New Year's Day TCSD Run and have been doing so for over a decade. I also am in my 10th year of putting on "Dave's Weekly Wednesday MTB Ride" which is listed as an advanced mtn bike workout on the TCSD's website.
Craig: Which Ironman races have you done?
Dave: I have raced in 5 Ironman Tri's. My first was Canada in 1994. My second was 1996 also in Canada where I went 10:29 after running a 3:40 marathon. That qualified me for Kona that year. It was tough, though, because Canada was only 8 weeks before Kona. How the heck do you recover, start training again, and taper? I went 11:08 in Hawaii, having a reasonably tough day but soaking up the excitement. I also raced Ironman California in 2000 and 2001. Never did make it via the lottery. I don't begrudge anyone who does (I've read that more of them as a percentage finish Hawaii than qualifiers), but qualifying was sweet.
Craig: Do you think you'll ever do another Ironman? If so, when and which one so I can avoid it since you are in my age group?
Dave: Craig! I don't think I can keep up with you anymore on asphalt. Now, if you want to go off road or wander around for 24 hours including during the night with compass and map, I might have the upper hand. Never say never as the saying goes, but getting the requisite hours in via training is tough with the little guy (and also hanging with him while Jeanne does her workouts). In some ways I envied old time club member J.D. Dudek. He said he was an Olympic distance guy and that was where he kept himself. He always said he never wanted it to consume him. I just have so many different interests now that's it's tough going out for a 3 hour run or 6 hour ride, plus these training sessions (with age) tear me up now worse than ever. In "the day", I used to do workouts like that, come home and do yard work for a few more hours. Now? I can barely walk after. Additionally, my son seems to have some talent. At 3 years old he ran a 10:29 mile, so I'm nurturing a future athlete. The nudges are gentle though...
Craig: You have evolved into more of an Adventure Racer over the past few years. What are some of the epic AR's that you have done and what were they like?
Dave: I keep all my old race numbers for reference, but at this point since 1986 I have done over 250 multisport events. At this point, probably 30 are AR's. I have completed three 24 hour AR's. No slight to Ironman, but these sleep deprivation fests feel like you've been hit with a hammer when you are done. I always felt spent after Ironmans, but after these 24 hour AR's, as a friend from my blue collar upbringing used to say "I feel like a s--t sandwich without the bread."
My favorite AR of 24 hour length (I've done a ton of 12's and shorter) was one I did near Lake Mead. I raced as a two man team with a good navigator (better than me). It was May and boiling hot at the start at 9:00 A.M. We biked Horseshoe Canyon (a fun single track area popular there near Las Vegas) and then started running/trekking to Lake Mead across the desert. It's miserably hot. Teams are dropping out from running out of fluids, but I carried a ton of fluids (and though it was extra weight it saved us). We finally reached Lake Mead after making no navigation errors (good thing as fluids were at their end post trek/run). We jump in the kayak and oh great. Some lake this is. The swells are huge and we're getting hit by water and the wind is terrible, but we survive. We make one error, causing us to have to drag our kayak out of the water and over this dock next to this fancy restaurant (where all the people were looking at us like we were nuts) to avoid having to paddle all the way around. We trekked again to the Colorado River below the dam and had to inflate these little pool blow up boats and paddle them up river to a canyon in the dark. Well, these "boats" were so flimsy that every time I paddle mine it spun in a circle. So, we roped together and were able to clumsily find our way up river to this slot canyon. The weirdest thing is no one is around. It's like were the only ones on Earth and while in this slot canyon at 2:00 in the morning, we come upon these hot springs. Oh my gosh, there are people there soaking and drinking beer. They look at us like we're ghosts and then realize were just some idiot adventure racers. So, we find the checkpoint guy sleeping, wake him up to stamp our passport, and I almost step on some guy's head. There are literally people sleeping on the ground in between and on rocks in the middle of nowhere above the hot springs! Totally surreal. We start going again and while trying to find our way we encounter a man and woman hiking down. Where are you coming from? The Casino. The Casino? What Casino? Keep in mind we are very tired. Finally we dismiss them as two kooks and continue on. To this day I wonder if I imagined that part from lack of sleep. My friend decides to take this one canyon (later we learn the winning pro team turned around as it was too dangerous) and it is super scary climbing with packs and deflated boats on our back on slick rocks. We do chimney and exposed climbs and I am freaking out a little bit because if it dead ends there is no way we can down climb what we just came up. We are talking helicopter rescue (well, I was). Anyway, fortunately this guy is the best navigator I've ever met and we pop out of the canyon at sunrise. Incredible! Come to find out? We finish second overall behind a "pro" team in 25 hours.
Craig: Holy cow! I would have gone home crying way before I had to climb out of that canyon. How are AR's similar to triathlon and how are they different?
Dave: That's an interesting question, Craig. A really good one in fact. They are similar from the standpoint that you bike and run. ;-) That's it. AR is very different. Tri is more of a head down sufferfest. AR is about the team. You are only as fast as your slowest member. I've towed people both running and biking. I've given people a massage. Talk about strange things, at an 8 hour race once I get a flat. The team stops. I'm repairing my flat and putting things away and the woman on our team catches my attention to hand me my tire levers. I'm totally embarrassed. She's squatting taking a whiz and hands me the tire levers like we were talking at some cocktail party. You don't have that happen much in Tri (although once in Ironman I caught up to this woman on the bike and wonder why she's standing while I'm in the aero bars. All of a sudden I'm hit by urine. Question answered). The staples in AR are mtn biking, kayaking, trekking/running and maps/compasses. From there anything goes. Rappelling, zip lines, swimming from a kayak into shore with PFD (personal floatation device) on and back out, horses, camels (sorry Craig, no sheep), whatever. The team dynamics issues are an interesting aspect of AR. People get tired. People get weird sometimes when tired.
Craig: Ah, my "golden shower" brother! I've had that happen to me, as well. What would you advise someone considering their first AR?
Dave: Mtn bike a lot. Trail run a lot. Learn to read maps and use a compass. Be organized. Gear for AR's make's Tri look like child's play. Learn to like scars.
Craig: When you sit back in your rocking chair with your son Samuel and wife Jeanne nearby, what do you think about?
Dave: If it's time for my next beer yet!
Craig: In addition to AR, your primary Tri interest is Xterra. Why?
Dave: Well, I got bored with road tri and drafting got so bad and was not enforced to any great extent I became a little disillusioned given biking is what I'm best at. In Xterra, drafting is legal, you just have little chance to do it and if you do it, do it at your own risk as I may not point out the next ditch I jump over as I can't take my hands off the bar and you may find yourself in a tumble :-) Certain injuries have curtailed track work for me so my speed is down. Xterra is about power including power to weight ratio. I've got a lot of power still at 47. This year I'm chasing Xterra points with my Xterra pals Greg Zackowski and Lynn Trimble while we all try to make it to Nationals in Tahoe. I've luckily taken a couple age group seconds and all 3 of us are off to the Xterra Mountain Championships in Ogden, Utah, in a few weeks. Xterra is like road tri's used to be back when I started. Laid back. I mean when I started Tri's 20 years ago, there were still races where we just laid our bikes down! I like different races in general. A few weeks ago I raced in an off road tri that substituted kayaking for swimming. It went run, kayak, MTB. I got second overall. A total surprise. Just let the surprises keep coming.
Craig: I knew it would be fun to interview you, Dave. We've had a fun journey together over the years. I am so glad you and Jeanne were blessed with Samuel. He's a lucky guy to have athletic parents like you both to show him the way. Good luck this season and always!