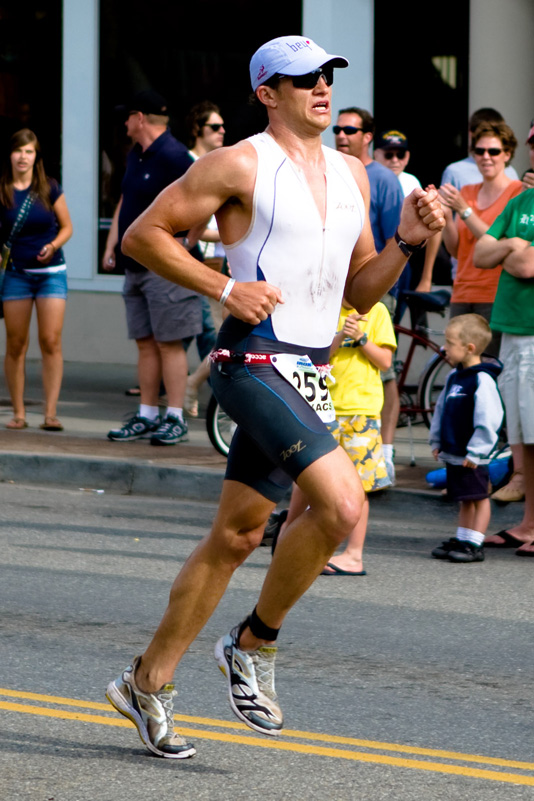 I recently had the pleasure of sitting down and talking triathlon with TCSD member, Daniel Derkacs. Daniel qualified for Kona this year with his super fast 9:51:32 at Ironman Coeur d'Alene. Please join me as we get to know this authentic great guy!
Craig: You started in triathlon as a child in New Mexico. Why did triathlon become such a lifestyle for you?

Daniel: First off, triathlon in New Mexico? Surprisingly, New Mexico has about 25 multi-sport races each year - all of which are about 1/10th of the cost of races here in California. So competing in NM is easy and cheap as long as you don't mind driving through the lonesome desert and competing against the same old competitors at every race.

As a child, I mainly focused on running and soccer - but mountain biking and road racing were among the other activities my brothers and I did to pass the time away during the summers in Los Alamos, NM (elevation 7500 ft). My older brother David entered a few long distance running races through the Junior Olympics and became a nationally ranked runner at the age of 8 without any real training. So, at the age of 6, I too began running while my twin brother Derek focused on Tae Kwon Do with my Dad. At the time I was too young to compete in anything longer than the 400 m so I first took up sprinting and progressively moved up to the 1500 m as I got older. As there wasn't a club track team in Los Alamos, our parents teamed up with a coach, Terry Pasalaqua from Santa Fe, to start a new track team called SFLA. Our parents fully supported our athleticism - traveling two hours to Albuquerque for track meets on Saturday and then again for soccer games on Sunday. I was quick but never quite as good as David. My most impressive result as a kid was a 4:57 in the 1500 m when I was 10 - good for a second place finish at regionals in Denver.

Being ultra competitive at that age might not have been the best thing for me as it was thought I had developed an ulcer because I was so nervous all the time. I remember that I had to keep a picture of my mom on my desk at school to help with my anxiety. 4th grade was especially difficult for me because it was the first year they expected us to do homework. I couldn't understand this at all. I was very obsessive as a child so I had to learn how to balance my nerves and my desire for perfection. Part of perfection meant no homework and going straight to practice - so I would frantically rush through all my assignments during dull moments of class so I wouldn't have to bring anything home. This behavior eventually died down in high school but I remember in middle school climbing up the building to look through the window so that I could see what my geometry assignment was so that I could do it during lunch before it was even assigned. I was nuts.

I don't actually remember my first triathlon, but we typically competed annually in the Los Alamos Triathlon - the oldest continuously running triathlon in the world. (35 years!) We had a family friend who was very serious in the sport and some of you may know of him - Joe Rodriguez. He was the Ironman champ of New Mexico - doing Kona every year for maybe 100 years. David used to train with his son John so we had knowledge of all the latest and greatest bike gadgets. I can still remember buying my first pair of Scott clip on aerobars - that I fixed onto my 5 speed mountain bike! Getting my first road bike was quite a treat. I found a HUGE Bianchi at a garage sale that I convinced my parents to help me buy for $200. Later, my parents would typically buy David a bike and then it was passed down to either me or my twin. So competing in triathlons was a simple matter of surviving the swim, biking hard, and then running. I only competed in one or two triathlons each year so I couldn't say it was a lifestyle at that point.

By 9th grade I actually stopped running because I was burnt out. I didn't start puberty until late in high school so I watched all the bearded kids fly by me in my races and it was very discouraging. After I stopped running, I began focusing more on ice hockey which I had been playing since middle school. I also started smoking. Hockey was a blast and I still don't know how I played and smoked at the same time. Quiting smoking was incredibly difficult - luckily I managed to do it before it was too late.

My triathlon "lifestyle" didn't officially start until David brought my dusty road bike to my dorm room in Albuquerque. In undergrad, as an electrical engineering major, I was focused and determined - and triathlon was the perfect way to completely separate myself from equations and computer programming. By the end of my freshman year in 1999, I was hooked and I had already competed in 10 races.

Craig: What brought you to San Diego?

Daniel: After my undergrad career at the University of New Mexico, I wanted to go to grad school where there was really good competition - both in school and in sport. I came to UCSD in 2003 for a masters degree originally, but I decided to stay a little longer and go for a Ph.D which I should be finishing up in less than six months. I got my MS in early 2006 but after a few months I decided to take a leave of absence from school and live in Europe. I was stressed and politically angry and I needed to get out and live in another country. So I sold my Subaru WRX and made it happen.

This didn't go over so well with Amanda Felder (now my fiance) as one can imagine, but thankfully she stuck with me and we stayed together through it. It was an awesome experience. I bought a bike in Berlin where I was living and I went on three solo bike tours in the Netherlands, Italy, and Turkey. I went to the Olympics in Italy, I skied throughout the Alps, and I visited almost every country in Europe along the way. I came home around 7 months later and started training again. A few months after that, I barely landed a slot for Ironman Hawaii at Buffalo Springs 70.3 so I decided why not try Hawaii again?
Craig: What Ironman races have you done and how did you do?

Daniel:
2001 Ironman California
153rd/6th M18-24 10:20:51 00:57:39 05:33:01 03:42:41

2001 Hawaii Ironman – qualified at Buffalo Springs Lake Triathlon
11:00:00?

2006 Hawaii Ironman – qualified at Buffalo Springs Lake Triathlon
233th/33rd M25-29 9:44:28 01:02:08 05:04:02 03:32:36

2008 Ironman Coeur d'Alene
36th/4th M25-29 9:51:32 00:59:38 05:25:21 03:22:51

Craig: What was IM CDA like for you this year?

Daniel: At the starting line in Coeur d'Alene, I was confident and decently prepared to race strong. I wanted to go 9:30 with a 1:00 swim, a 5:15 bike, and a 3:15 run. I had a very good base under me, but I only really began my Ironman program 8 weeks before the race. I averaged 18 hours per week which was much less than what was on my schedule - but sometimes my PhD had to come first.

I focused on swimming early in the year and managed to shave a few minutes off my long timed sets in the pool. Unfortunately, all those time trials were done in a sleeveless Zoot wetsuit and I found out a few weeks before the race that the water was going to be in the 50's for the race. So I had to get used to a full sleeve suit asap. I didn't have a goal time for the swim but I was satisfied with my 59:38 since it was so cold. The temp wasn't too bad the first lap - but during the second I could feel parts of my body getting cold and cramping.
Overall, I was disappointed with my bike split of 5:25. I once again had nutrition problems, and the course was much more difficult than I had envisioned. The short story is that on the first lap I averaged 260 watts for a split of 2:35:00, and on the second lap I averaged only 220 watts to split 2:50:00. Not the way to race an Ironman. The wind picked up substantially during the second lap but my power was still much lower.

Since I am heavy (180 lbs), I constantly struggle with nutrition, sweat, and maintaining a cool core temperature. If you know me, you know that I sweat about 5x more than most athletes. One visit to our turbo workouts will verify this by the river under my bike. I started cramping on the bike around the halfway point and I knew it was going to be a long day.

I try to eat real food on the bike and I don't like to rely on gu. I use 2 bento boxes, one on my stem and the other on the frame. I ate 2 Lara bars (200 cal each), some packages of jelly belly sport beans (100 cal each), a squashed peanut butter and jelly sandwich (400 cal), some bananas and gu's from the aid stations etc. I like eating 300 calories per hour if I can. Taking 15 gu's is not for me!

Unfortunately, I get violently ill from Gatorade Endurance - the only electrolyte drink served in every Ironman. Not only does it taste like cough syrup - it's just as thick. So I have to be very cautious with how much Gatorade I take in - typically drinking one bottle for every 2 or 3 of water. I knew I was desperately low on electrolytes (despite taking salt tablets, eating bananas, and drinking a mix of Gatorade and water).

Luckily I packed a ton of goodies in my special needs bag at the 66 mile point which includes a snickers bar, a coke, a can of V8, a Redbull, and a can of chicken broth. I opted for the can of broth and a Redbull for a little pickup. I instantly felt better from the soup but I knew that if I wanted to hold 260 watts, I was going to need 2 more cans of broth. So I proceeded and went quite a bit slower up the rolling hills on the second lap.

Coming into transition, I knew I needed a good run to get a slot so I started out at my "goal" pace of 7:15/miles. I don't even attempt to drink Gatorade on the run anymore -- instead I drink Coke and take salt tablets. The temperature was great so I was holding my splits until things got "heavy" at mile 9 and I had to take a break to go to the bathroom. I struggled to get into a groove over the next few miles - slowing down to 8:30/miles, and once again I knew I was low on sodium. At every aid station I asked if they had any soup, finally finding some at mile 12. I dumped out my water bottle and filled it up with steaming hot broth. Once again, it saved my day! I ran with a bottle of soup the rest of the way, taking sips at least once per mile and drinking coke at the aid stations.

Overall, I was satisfied with my run of 3:25. It took me from 7th to 4th in my age group and 36th overall. I could have gone faster if things were perfect, but they never are in Ironman.

Craig: You have been very involved in triathlon with UCSD. In fact, you have even been the race director of the Tritonman Triathlon. What did you learn with that experience?

Daniel: I should clarify that I was the co-race director both years we held the Tritonman. The man behind the scenes. Not quite the man in charge - more like the man who is charge of doing all the things nobody wanted to do like timing and the late-night preparations. It is quite fulfilling once the day is done - but before that it is extremely nerve racking. I wouldn't want to do it as a career that's for sure. There are some good memories though - and a lot of congratulations on how well both races went. One challenged athlete in particular comes to mind as he was able to compete in his first triathlon ever after suffering from a stroke.

Many things go into setting up the race and most of it was initially handled by Tom Scherbart in 2007 and Andrew Radin in 2008. Luckily we had access to the TCSD which provided a lot of equipment and time saving connections. KOZ helped us out by letting us rent equipment for very little charge as well. We would have saved a lot of time initially scoping out race sites if we knew that swimming is not allowed in any reservoir in San Diego county. This is something that should be changed considering you are allowed to drive a leaky motorboat but you can't hold a special event in any of the local waters.

Sadly, some triathletes take the whole self-importance thing one step higher than others. We were twice threatened to be sued for discrimination by male athletes. One who could not enter the race because it was already closed and the other because we were not offering awards for 5 year age groups - only ten year age groups. Really guys, it's a sprint distance triathlon around an old dump.

Craig: You are engaged to 2 time Collegiate National Triathlon Champion, Amanda Felder. You are both pretty fast. Who caught whom? And how do you juggle career, triathlon and your relationship?


Daniel: The first time I met Amanda was in 2004 in the beer garden at the Carlsbad 5k. I was shirtless and wearing super skimpy running shorts. She remembers it well because she and her friends were making fun of me - calling me the naked man or something to that effect. I can only argue that this was before the fashion police had informed me that Californians no longer wear short running shorts like in New Mexico.

Amanda was said to be the new ringer for UCSD. My friend John recruited her from the cross country team and convinced her to give the sport a try since she was a swimmer and a runner. After a masters swim one day, I fixed up her 10-speed bike that she had been riding since middle school. After her bike was back in shape, I made her a bagel with lox and cream cheese and won her heart. Well not actually. She was dating another chap and it wasn't until 2005 that she finally got over the short shorts incident. In February of 2008, I surprised her at La Jolla shores during a faux photoshoot and I popped the big question. The whole episode can be viewed at www.derkacs.com/propose.

There are a few things that Amanda needs to be happy: her watch, her water bottle, sleep, being on time, cheese, and sticking to her workout schedule. We get to train together a few times during the week. This varies greatly if I'm training for an Ironman because she obviously doesn't need to go out for 5 hour death rides to compete in the ITU world.

One of the things that keeps us going is the fact that we both have no problem going to bed early. I've learned over the years that you can only train hard if you sleep well. So getting at least 8 hours of sleep (9 to 10 for Amanda) is usually not a problem for us since we're typically exhausted by 8 and in bed by 9. We are the coolest late 20's couple around!

After we graduate, the plan is for me to work in the solar cell industry and for her to take on triathlon full time. I'm actually in favor of this because I have had a completely different graduate school experience than her. I can work my own hours while she basically has to punch the clock.



Craig: You've told me that you were previously more of a "hammer head". How has your approach to training evolved over the many years you have been racing?

Daniel: Like most triathletes, I used to train by the seat of my pants. I went hard when I felt good and if I felt bad, I would finish the workout as well as I could and then go hard the next day to make up for it. There was one level I trained at - the gray zone - as coach Sergio Borges calls it. Everyone is guilty of it - going way to hard on the easy days so that you can't go hard on the hard days. The result is a performance plateau. Some reach the plateau within one season while for others it will take a few years. It comes.

For many, following a written schedule that includes yearly, seasonal, and weekly periodization will advance performance immensely. For this you need an outline of your key races so that you can plan your training blocks and resting phases accordingly. Having a coach do this for you helps more than words can describe. Fortunately, periodizing your season is a lot easier for Ironman distance racing as compared to short distance racing because you can't just slip another Ironman into your schedule whenever you feel like it.

Lastly, if you need hard numbers, I strong suggest skipping Dura-ace, getting 105, and buying a power meter. It is the ultimate training tool.
Craig: Can you single out 1 race in your career that was your very best?

Daniel: The best race I ever had that comes to mind was the New York City Triathlon in 2007 when I out ran Dave Scott.

The swim goes down the Hudson and due to the massive current it is always super fast. The bike is out and back and has some nice rolling hills. Of course all the fast swimmers were way ahead of me and as usual they were drafting except for the two lead guys. So despite feeling great - I didn't do much catching up on the bike. When I got to the run something just clicked. I felt so good and the miles were all going down around 5:20. The kicker was when I passed Dave Scott about a mile before the finish and he sort of grunted in surprise. We chatted after the race and he congratulated me which was pretty sweet, considering he's one of the sports best runners. I finally achieved my seasonal goal of breaking 34 minutes on a 10k run by posting a 33:40 and in the process I managed to squeeze out an all-expense-paid trip to the US Open championships in Dallas.

Craig: What is your favorite part of membership in TCSD?

Daniel: The aquathlons are first to come to mind. They are challenging, fun, and they're free! Next are the Borrego camps. The few that I've gone to were an absolute blast - but they're not quite the same without Jim and his wicked marshmallow throwing arm. I also enjoy the monthly meetings because of the diversity of speakers TCSD manages to get. Lastly, I enjoy the email list. If I ever need an opinion or a recommendation for nearly anything - someone is out there to help. TCSD is great!

Craig: Who inspires you and why?

Daniel: I'll just stick to the triathlon world for this one.

First, I look up to Amanda because she is so talented. I can't wait to see how she performs when she finally gets to train and recover like a professional.

I have two unbelievably talented training partners this year, Patrick Baldwin and Kate Major. Patrick is a damn gazelle and Kate is so friggin strong and consistent it's insane.

I also really look up to Mac Brown because he never deviates from his daily plan and he misses maybe one workout a year.

Craig: What are your triathlon plans after Kona?

Daniel: Tough to say. Maybe I'll take a year off from Ironman, maybe not. If I have to get a real job, that might help me answer this question. I have a lifetime goal of breaking 9 hours and running a 3 hour marathon in an Ironman. I guess I can't do that if I don't enter one!

Craig: Hey Daniel, thanks for sharing your great stories. I'm certain you will achieve all of your goals. The Tri Club is lucky to have you as a friend. All the best to you and Amanda!