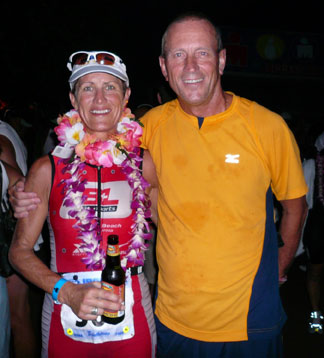 I had the privilege recently of talking triathlon with TCSD member Mike Rouse. If you find any "run-on" sentences, you'll see why shortly as you read the interview. Mike can really run!
Craig: What was your athletic background as a kid?
Mike: I participated in all sports as a young guy, but settled into golf by the age of 12. I felt to really be successful at golf, I had to devote 100% of my athletic time as a golfer. I later tried the pro tour.

Craig: How many marathons have you done and when did that all begin for you?
Mike: I did my first marathon in 1986, and stopped counting at 200 (which was about 4 yrs. ago). My PR is 2:55. I'm assuming that by now I've done around 210-212. There was a long period of time when I was doing 12-15 per year, sometimes more. I've also completed (43) 50 Mile Races (PR of 6:31), (17) 100 Mile Races (PR of 17:20), and (4) 24-Hour Runs (PR of 126.55 miles)

Craig: What has been your goofiest marathon experience?
Mike: My craziest marathon experiences occurred in 2000 and 2002 when I ran Boston both from finish to start and start to finish. I started around 7:30 AM at the finish line, ran to the start line, then went to the "Texas House" near the start, rehydrated, then ran the marathon. Great training
for my 100 mile races!

Craig: What inspired you to give triathlon a go?
Mike: Being an ultramarathoner for 20 years, I always followed other endurance events, especially Ironman. I still have tapes from the '87-'96 Ironmans. I have the '89 Iron War with Mark Allen and Dave Scott memorized. My first trip to Kona in 2002, shortly after my 50th birthday, I saw the swim start, walked Alii Drive, and told Kimmie that I was going to do Ironman. At the time I could not swim across a 25 meter pool, and hadn't ridden a bike since I was 12. But I came home, got a bike, learned to swim, and was on my way. Six months later I did my first Tri, San Diego International, and fell in love with the sport. It wasn't pretty, but I had a blast.

Craig: What Ironman races have you done?
Mike: I have only done a few Ironmans - 4 to be exact - Lake Placid first, then Arizona 3 times. But I'm getting ready for my 4th Ultraman World Championship this November in Kona. Ironman is too short (just kidding...). I simply LOVE the ultra-endurance events. I started Ultraman in 2005, and followed that up in 2006 and 2007. I won the 50+ AG
the first 2 years.

Craig: What are the distances of the Ultraman in Hawaii?
Mike: Ultraman is a (3) day event on Kona, with each day having a 12 hour cut-off time. You are disqualified if you cannot complete the day's event in that time.

Day 1 - 6.2M swim and 90M bike (point-to-point swim, bike from sea level to the Volcano).

Day 2 - 171M bike (from the volcano, to the SE corner of Hawaii, through Hilo, and over to Hawi).

Day 3 - Double marathon - 52.4M (Run from Hawi back to Kailua-Kona).

Craig: What are the logistics of doing that race?
Mike: My wife, Kimmie, is my Crew Captain, and each year we have a different 2-man crew to assist her. However, year one (2005), she crewed me SOLO...a Herculean task!

Craig: What stands out from your experiences doing that race?
Mike: My craziest experience was the first year (VERY long story, and I'll keep it clean), when after the second day of biking, as I got out of my gear, I lost skin from the bike seat in a very tender spot. 'Nuff said...

Craig: Your wife, Kimmie, has done very well at the Ironman in Hawaii. What is it like for you to cheer her on in that race?
Mike: Kimmie is my star. She absolutely ROCKS! Give her a mission, and she's ON IT! I have never seen anyone with her intensity and drive – Pros included. What can I say...after her first triathlon experience in getting out of her wetsuit, she won about 15 races in a row. She did her first Ironman with a broken collarbone, and got 2nd in the 50-54 AG the following year. She podiums at every race, and has probably won 20 out of 25 triathlons. I am her biggest fan. She inspires me to succeed, too.

Craig: God is a big part of your life. How did you get to know God?
Mike: I grew up in a very spiritual family, and believe my faith is my biggest asset. It has carried me through unbelievable trials and troubles.

Craig: What do you do for a living?
Mike: I am Director of Sales at Zoot Sports, coming over from Mizuno to help head up the footwear project. I love selling shoes and assisting people accomplish their dreams in running. Still a "runner that does tri's", I am blessed to be able to work in the business that my wife and I enjoy so much.

Craig: What races are still on your list to do?
Mike: My "dream" in my athletic world is to get into multi-day adventure racing. My best asset is my determination and ability to recover and go again. I guess that's why Ultraman is so much fun for me. I love spending the full day pushing my body, then getting up again the next morning to go again. Then doing it again. The only thing better would be to be able to do that for 7-10 days! Sick, huh?

Craig: Yes, Mike, you are one sick puppy, but that's why we love you! Thanks for taking the time to share your story. We wish you the best at Ultraman and in all the goals and dreams you and Kimmie chase down.