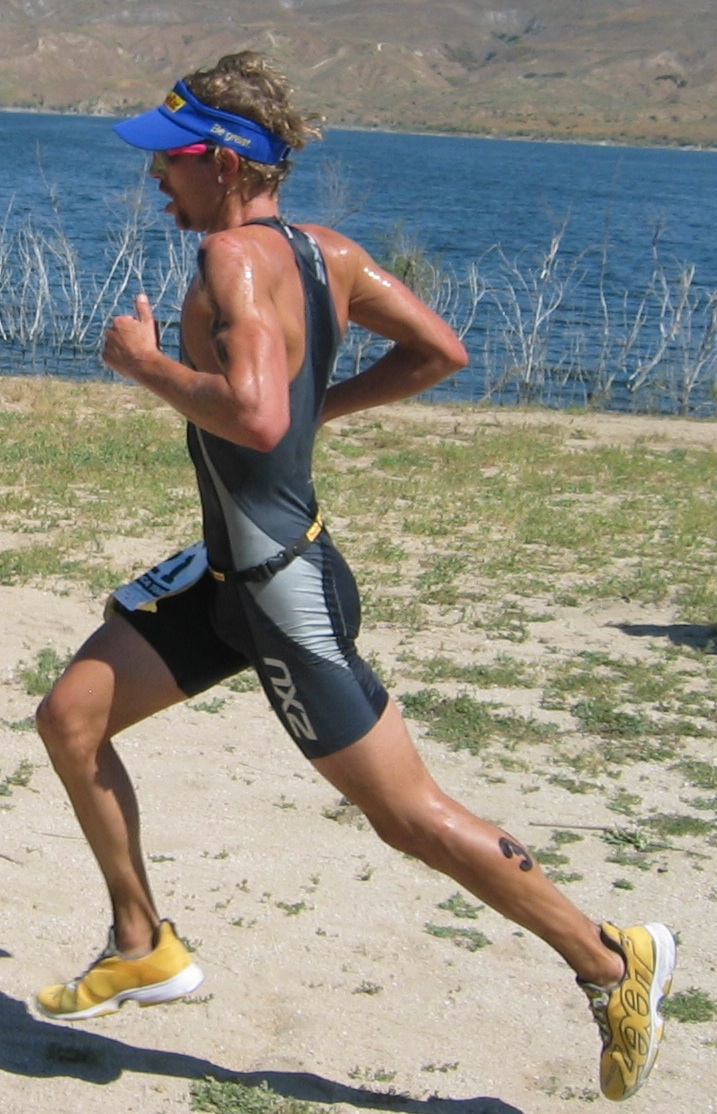 I had the opportunity recently to talk triathlon with TCSD member James Walsh. James won the 30-34 age group at the Xterra World Championships in Maui and was the 2nd amateur overall. Please join me as we get to know the Tri Club's latest World Champion!
Craig: What was your sports background before you got into triathlon?

James: I didn't get into any kind of endurance sports until the end of 2005. Up until then I had just run to stay in shape. I played baseball from the time I was 5 years old all the way through high school and 1 year of college. I also surfed, skateboarded, and snowboarded since I was 13 and haven't stopped since except for the skateboarding. Falling on the concrete just started to hurt too much.

Craig: How did you get the inspiration to start racing triathlons?

James: In the summer of 2005 I was riding down the 101 on my beach cruiser (probably a little hungover) from my apartment in Cardiff and came across the Solana Beach Triathlon. The friend that was riding with me and I pulled over to watch for a bit. I saw people of all athletic abilities having a great time and going for it. I just remember thinking to myself that I could definitely do that (race triathlon). At the time I was just surfing everyday, running a couple of times a week, and mountain biking a bit.

Craig: What was your first triathlon like?

James: The first triathlon I ever did was a TCSD beginners race at Glorietta Bay in November of 2005. It was nasty day with rain and wind. I did the swim in my surfing wetsuit and bike on my mountain bike. I remember barely surviving the swim and hammering as hard as I could on the bike while wearing my running shoes. I got passed by a bunch of people on the bike. When it came time to run I had no idea what to expect. I had never run after riding. Surprisingly my legs felt good and I ended up passing quite a few people on the run. When it was all over I was pretty stoked but knew I had a lot of work to do, and needed to buy a road bike.

Craig: What was your first off-road triathlon like?

James: The first off-road triathlon I did was the Arizona Xtreme in Mesa, AZ in April of 2006. I actually rode out to the race with Dean Sprague. He probably thought I was nuts because I picked his brain the whole time on the ride out there from San Diego. He had tons of racing experience at all distances and I was a rookie for sure.

The race went well and the vibe was awesome. I had a pretty good swim and then headed out on the bike. The bike was going well until about 3/4's of the way in when I took a spill. I scraped up my shoulder, forearm, and knee pretty bad and it took me a while to get back going. I lost a couple places to guys in my AG but was ready to run. Again I was able to run well off the bike and caught a lot of people. I was able to run my way up to second in my AG.

While still on the run, bleeding, hurting I knew I had found the kind of racing I wanted to do. That thought was solidified when they had free beer right after the race. I also won the "Road Rash" award for having the gnarliest cuts and scrapes.

Craig: What special steps have you done to develop your mountain bike skills?

James: Just riding... a lot. To be fast off-road you have to be confident. The only way to do that is ride a lot and practice your skills. I started to ride with people that were better than me and really pushed me. I definitely had my share of crashes, just ask Jim Vance, but it definitely brought my riding up to another level in a short time.

Craig: How do you balance off-road biking with road biking?

James: I would say that I spend 60% of my time on the road and 40% on the mountain bike for most of the season. When I get closer to race day (usually about a month out from a big race) I spend 80% of my time off-road so I can really get dialed in and build confidence.

The road bike (I love my Orbea) is great for building your fitness early in the year. A long ride doesn't beat you up the way a long mountain bike ride can. So during my base phases I put in my long rides on the road and then my shorter more intense workouts off-road. I also actually spend a lot of time on the trainer in the winter doing a very specific 12-week program. The time on the trainer is not fun by any means but it has paid huge dividends.

Craig: How has the TCSD helped you become a better triathlete?

James: There is no way I would have made my quick progression in the sport without the TCSD. In my first 2 seasons I was a regular at the Tuesday/Thursday rides in Solana Beach, Friday morning Fletcher Cove swim, and the Sunday Del Mar swim. I still try to get to these swims whenever I can. I had a chance to do a number of club races before I ever towed the line in a "real" race. I also have met many training partners and had some great times. I also met my AWESOME girlfriend, Beth, in the TCSD which has definitely made me a better triathlete!

Craig: What races did you do to lead up to Nationals at Tahoe?

James: This year I actually raced less than I ever have. I really wanted to cut back and just focus on the big ones. Here's the ones the mattered:

•Big Blue Off Road Triathlon – 1st Overall/AG
•Xterra West Championships – 1st AG/2nd Amateur Overall
•Xterra Southeast Championships – 1st AG/1st Amateur Overall
•Xterra East Championships – 1st AG/1st Amateur Overall
•Xterra Snow Valley – 1st AG/1st Amateur Overall
•Xterra USA Championships – 2nd AG/6th Amateur
•Xterra World Championships – 1st AG/2nd Amateur/1st American Amateur/22nd Overall

Craig: What is the race like at Tahoe (Xterra USA Championships) and how do you qualify?

James: Tahoe has always been tough for me. The course really doesn't suit my strengths. It's usually cold, it's at altitude, and the run is easy when compared to other Xterra Championship courses. I thrive in the heat and the harder the run the better for me.

The race in Tahoe starts in cold water (usually in the upper 50's) and for me swimming at altitude is really tough. So after a 1500m swim you have to run 300 feet numbing yards to T1. The race in Tahoe is all about the bike. The climbs are tough but the views once you get to the infamous Flume trail and the long, fast descent are worth all the climbing. The run is two laps through tight, twisty single track. It's not as hard as other Xterra courses, but after the hard ride it is still challenging.

To qualify for Xterra Nationals you have to compete in points series races to accumulate points. Each age group is allocated a certain number of slots and if you finish within that number in your region you are in!

Craig: What was your race like at the Xterra World Championships?

James: It all came together for me this year in Maui. I came into the race feeling the best physically I had all year, but was a bit fried mentally after a long season of racing. This was my third year racing in Maui so I knew what to expect.

The swim was rough. I got kicked (in the junk), dunked, grabbed, and elbowed. I didn't let it get to me and just hung in there taking a beating but swimming well. At the end of the first lap I was still feeling good and ready to go harder the second lap. The second lap was a little less violent and I got out of the water feeling good.

The bike course is tough in Maui. There's a ton of steep climbing and descents are gnarly and filled with big lava rocks. I just kept pushing it up every climb because as I knew a lot of guys out there are better descenders than me and willing to take more chances. When we got to "Ned's Climb" I decided I wasn't going to ride in the pack I was with anymore. As soon as there was room I made my move and gave it everything I had. I went to the front of the pack and kept pouring it on... and on. When we got to the paved section I locked out my fork and got out of the saddle and kept going and caught and passed two more guys. At the top of climb, right before "the plunge", I looked back for the first time and there was nobody... I mean nowhere even close. This got me stoked and ready to charge the descent. The descent was really good for me. I just opened it up and let my bike do the work. On the last section of the bike I caught a couple more guys and rode with them until the last descent and then headed into T2 ready to run.

Heading out on the run I knew there could not be too many amateurs ahead of me and I wasn't sure where I was in my AG. I headed out of transition and the legs felt good but the guys I came into transition with were trying to hang on... so I went for it as soon as I hit the road. Once you turn off the road it's a straight 2.5 miles of climbing, and the best time to make up significant chunks of time. So I went for it. I just charged the hill and passed quite a few amateurs and a couple of pros. This boosted my confidence and then I just kept rolling. Then I hit the beach and as always it was brutal. It feels like you are running slow motion, but again I just thought about cadence and turnover. Then it was into the "spooky forest" with 1.5 miles to go and I was informed I was the 2nd amateur and 3 minutes back from #1. I just kept going and as I got close to the finish a pro was coming up on me and was going to make me work to the line. So over the final 1/4 mile I picked it up and ended up holding him off, but couldn't quite catch the #1 amateur...but I took 7 minutes out of him on the run!

I was so stoked to cross the line and even more stoked to have my sister there and knowing that Beth and the family were watching online.

Craig: What are your triathlon goals for next year and beyond?

James: My goals for next year are still up in the air. I exceeded any and all expectations that I had for this year. I will still will be focusing on Xterra and really want to win the Xterra USA Championships. I will also be competing in the Xterra Socal Trail Running Series and a bunch of mountain bike races.

Craig: Who are your sponsors?

James: I am pretty lucky when it come to sponsors and support. Sponsorship-wise I race for B&L Bike and Sport, PowerBar, Matisse & Jacks, Maxxis, Stuffitts ShoeSavers, and Skinfit. These are all companies I truly believe in. I am also fortunate to have tons of support from my amazing family and incredible girlfriend, Beth. My family has always supported everything I have done and when I started triathlon, even though they thought I was crazy, were always very interested in what I was doing. I can always count on my mom and dad to call me as soon as a race is over to get the details. My mom even keeps a calendar at home, back in Virginia, of all my races as well as Beth's. My sister has also been awesome. She traveled to both Tahoe and Maui this year to root me on. My family could never know how much their support means to me and how much they have been a part of my success.

Then there is Beth. She's deals with me on a daily basis. She sees the ups and downs, the early mornings, the "boring" weekend nights, and has always been super supportive. I believe much of the success I have had this year is due to the balance she has brought into my life. Like many of us I can kind of get caught up in the training and racing, but she always keeps me in check.

Craig: What do you do for a living?

James: When I am not out on the trails I do actually have a real job. I am an IT/Computer geek. My actual title is Sr. Network Engineer and honestly, I really like my job. I work for Qualcomm and they really support a healthy, active lifestyle. It also helps that I have access to a private lap pool and my office is right next to Penasquitos Canyon! There is nothing like getting in a killer trail run or swim during my lunch break!

Craig: James, it has been great getting to know you these last couple of years. Thanks for sharing your story. Congrats on all the great things you have going on in your life. Good things happen to good people. The TCSD will always be there cheering for you!