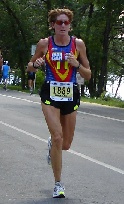 Craig Zelent (CZ) had the chance to sit down and talk Ironman with Denise Bienias (IM2b) who is preparing for Ironman Canada on August 25. It is always great talking to a prospective first time Ironman and this conversation with Denise was no different.
CZ: What made you decide to try an Ironman distance race?
IM2b: It was just the next event to do.
CZ: In the past 5 years Ironman has gotten really popular. Did you get caught up in that wave and that's why you are doing this?
IM2b: Absolutely not, it was just my time to do an Ironman.
CZ: Why did you select Ironman Canada as your 1st Ironman?
IM2b: I have heard so many good things about Canada and it comes at a good time of year. I've always wanted to visit Canada and what a great excuse to make a vacation out of it.
CZ: How has the TCSD influenced your development in the sport of triathlon?
IM2b: I've sat through all the Christmas parties and have listened to all the accomplishments of finishing Ironmans and have always wanted to complete one myself, eventually. I just needed the right time to make the commitment. The club has been a huge motivator for me in all my events. Everyone is so amazingly inspirational at all levels and extremely helpful regarding any aspect of the sport of triathlon.
CZ: How has your husband, Rick, influenced your development in the sport of triathlon?
IM2b: Rick and I met at my first club race, a duathlon, and from there I just kept getting interested in doing a triathlon while watching Rick participate in the local races. We eventually trained together and did Wildflower, my first half, and had a great time.
CZ: Did you have a sports background growing up?
IM2b: From day one, I've always tried to keep up with my older brother, so I'd say I was a bit of a "tomboy". From there I played bobbysox softball, basketball, volleyball, and track. I started running with my girlfriend at age 17 as she was training for cross country. I tried out for college basketball my freshman year, but didn't make it. At that time I continued with the running and biking and did my first triathlon in a team, I was the biker, and had a blast. From there I have continued with many 5 and 10Ks and eventually moved on to long distance biking and completed the Deathride three times and the Davis double century twice. And now here I am training for my first Ironman.

CZ: At this point you are doing the peak mileage in your Ironman preparation so you are pretty far along. What has been the most difficult part of the challenge so far?
IM2b: I would say getting myself to go to the masters swim workout on a regular basis. Swimming is not my favorite thing and especially going back and forth counting laps. Very boring! I can now say I prefer swimming at the cove. Each time I go I consider it a new adventure, although I really do not enjoy swallowing salt water or awaiting some lurking sea monster to get me. The other hard thing is my legs always feel tired on all my runs. But that is just Ironman training for you. All in all I have enjoyed my training, otherwise I wouldn't be doing it. Each long day I consider a new adventure.
CZ: Do you have your eye on any sports goals after you finish Ironman Canada?
IM2b: No. A year of no racing and just enjoying exploring San Diego on the mountain bikes and getting back to my friends at the beach playing volleyball.
CZ: Tell me about your first triathlon.
IM2b: It was Mission Bay. I figured I could just wing the short swim and do well enough on the bike and run. Wrong. I just about drown on the swim doing every stroke possible but the freestyle and just about quit. Somehow I managed and then passed 100 on the bike and 50 more on the run and came in 7th in my age. Then I got the bug and decided I needed to learn how to swim.
CZ: You have come a long way from Mission Bay to Ironman. Do you have any advice to people brand new in the sport?
IM2b: Train smart and listen to your body. You can't always follow a schedule, if your body needs rest, then rest. That's a great way to ward off sickness and injuries. And you'll be amazed at how much the body can do, as long as you have the discipline and desire to push on.
CZ: When you cross the finish line in Penticton, what do you imagine that moment will be like?
IM2b: On my long runs when I'm feeling like I cannot go any farther, I tell myself this is what it will feel like coming to the finish line and to just keep moving and I can finish. Then I know it will become very emotional for me coming to the end of a long journey with probably a combination of relief, elation, excitement and of course fatigue. The best part will be sharing the moment with my husband, Rick.
Denise, thanks a lot for sharing our conversation with the Tri Club. I know your Ironman dreams will come true in Penticton. We'll all be cheering for you and the 19 other TCSD members doing that race.