I had the pleasure recently of talking triathlon with Steve Banister, our most recent President. Steve did an awesome job as President the past 2 years. Please join me as we get to know a great guy who has given selflessly to the club and our community, but who also happens to be a pretty fast triathlete.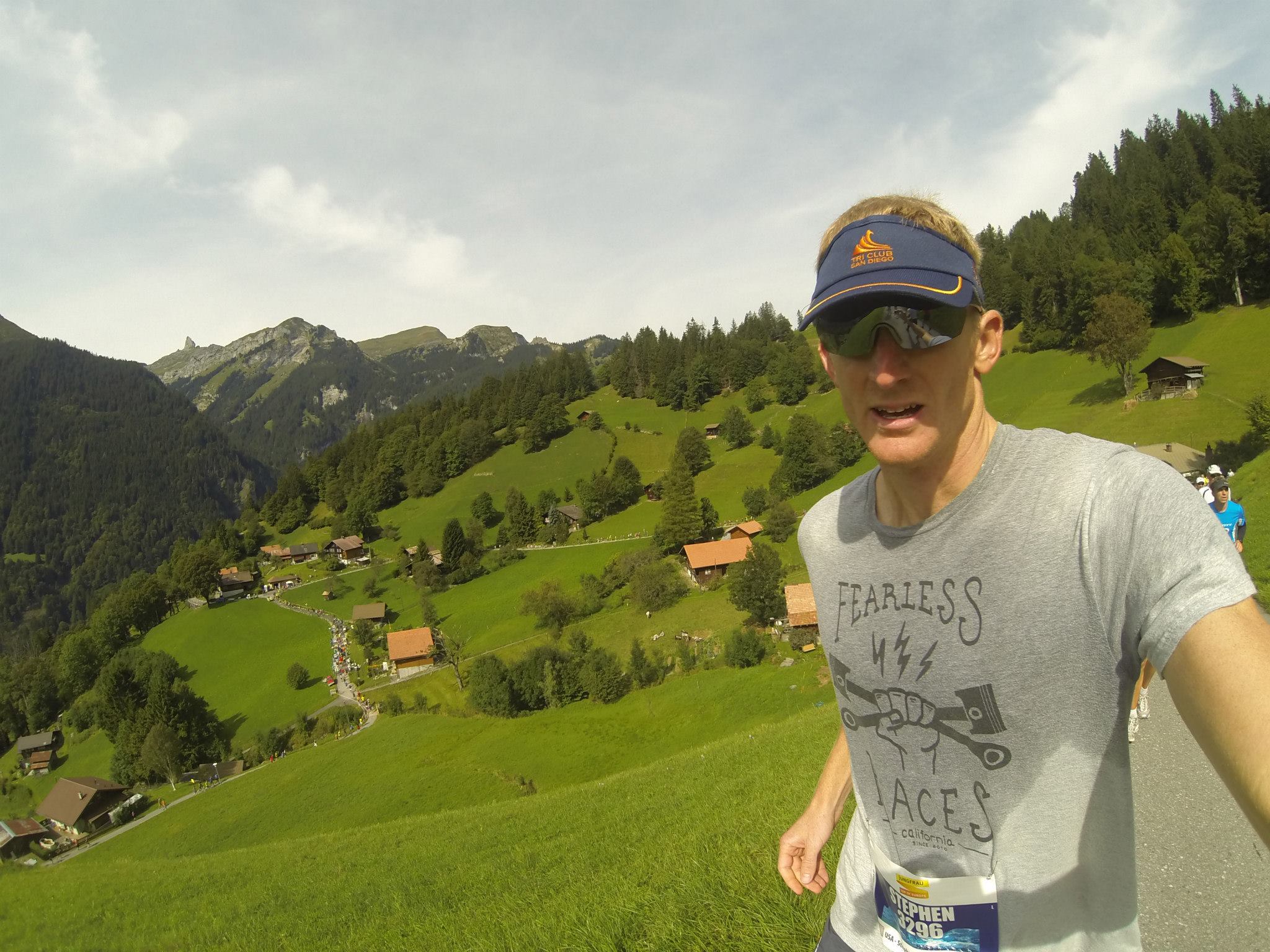 Steve Banister representing the TCSD at the Jungfrau Marathon in Switzerland
Craig: What sports did you do prior to triathlon?
Steve: Soccer, baseball, football, track, and swimming growing up. Football, baseball and track to a much lesser extent. I probably fit best with the swim team and therefore chose to stick with them in retrospect.
Craig: What do you remember about your first triathlon?
Steve: I do not remember the name of the event, but it took place in Bradenton, FL. I believe I was 5th in my age group and mom says I was 12 years old. I remember being totally lost, pretty much the entire time. It was a pool swim, a mountain bike ride across a field, and a short run. I remember having a strange tasting sports drink after, that I only recently tasted something similar to again in Japan (pokari sweat). That stuff is great... if you are ever in Japan! I didn't race again until my first year of college. I was 4th overall in a local small sprint race called Top Cop Triathlon in Temple Terrace (Tampa, FL). I rode bikes a bit growing up but never had an opportunity to race. I guess after the finish at Top Cop on a $40 yard sale bike I realized that I had been training for triathlons for a while without realizing it. I've fooled myself into believing triathlon serves a greater purpose ever since then. I guess it really does, but I try to keep in perspective with all the more important things in life.
Craig: I've heard that you've raced the Ironman distance once. How did that come to be and what was your experience like?
Steve: One of my first meetings with the club was at Road Runner Sports. I remember they had a deal where anyone could buy a pair of Avia shoes and get a free entry into a list of races. I was funemployed at the time and wanted to do an Ironman, so I went and signed up before the sales pitch was over. I selected the Vineman Full Triathlon and set off to train for it. There were still several months to train, but I went out a week or two later and came pretty close with a 100/15 brick. You know, just for practice. I kept training and eventually got a bad case of plantar fasciitis. The race itself was great. Well supported, small and comfortable, with a focus on the athletes.
Craig: You have had your share of podium finishes over the years, what race performances are you most proud of and why is that?
Steve: Winning is always fun, so I'd say my very first overall victory is one of the more memorable. It was a small race, as all overall wins I have, but a fun one. It was an Olympic distance race on the Gulf Coast called Beach Blast. I had a few minute lead coming out of the swim and came off the bike in second behind a guy with tree trunks for quads. I remember catching him at about the run turn around and him saying "its not fair, you have long legs".
On that list also has to be Catalina Triathlon and Tri-Rock San Diego. Tri Rock was special for a few reasons. One, I was 6th overall the day before at the San Diego Tri Classic on a course that does not suit my strengths, so winning overall was totally unexpected. Two, leaving with a custom electric guitar. Three, my girlfriend Erin Hunter also won an electric guitar. Competitor, Asics and Taylor guitars teamed up and set the bar pretty high.
I've lost and totally bonked at enough races to know pro-triathlete isn't a career for me and am pretty happy continuing to compete and push my limits as an age grouper, but would love to find the time to get faster and stay healthy.
Craig: What have been some of your favorite destination races that you have done?
Steve: ITU Age Group World Championships in Edmonton, Alberta mostly because I spent the week before in Banff. But partially because they built a million dollar chlorinated lake just for the event. Talk about dedication to an event.
Xterra World Championships in Maui because I started with the pros, wasn't last out of the water AND eventually made it across the finish line. One piece of advice for Xterra hopefuls- respect the course and train like you mean it. Just because it's in a park, doesn't mean it's a walk in the park.
McDonalds Ironhorse Bicycle Classic in Colorado is number one. It's the one reason I never talk bad about McDonalds. They do a lot of strange things with food, but as long as they keep putting on the Ironhorse, I'm lovin' it. It's a 50 mile ride over two snow capped peaks between Durango and Silverton. As an added bonus the race is against a coal fired train.
Another favorite has to be the Jungfrau Marathon in Switzerland. A good friend, Daniel Crane, from grad school days qualified by being one of the top Scottsdale residents to finish at one of the hottest running races on the planet (Scottsdale Beat the Heat). 11.22 KM's at 2:47 pm to commemorate the hottest day on record in Phoenix at 122 degrees in 1990. Scottsdale has a great sister city program set up with Interlaken, Switzerland. They set my friend up with free entry to the race and a few nights in a hotel. Daniel invited me to tag along in one of our typical "what's the worst that could happen?" conversations and the city of Interlaken was nice enough to throw in another race entry. We we're treated like dignitaries and offered copious amounts of rosti, beer and schnapps the day before the race. I had a pretty good idea how my race would go, so I didn't hold back much. I had some major IT band issues leading up to the event so had to cut the training short, but thoroughly enjoyed the entire marathon. I stopped at around 35k and got a massage. The race is generally uphill with more than a mile in vertical gain. Near the top I passed some guys with Alphorn's and saw a pretty substantial avalanche on the neighboring peaks. Daniel went on to be the 4th American at the event.
Craig: You were part of the inaugural TCSD Ambassador Team this year. How does that group contribute to the club and what does it mean to you to race in the Tri Club kit?
Steve: In taking an in depth look at how club numbers have fluctuated so much over the last 10 years it occurred to me that TCSD is finally experiencing what many other clubs around the world do. Competition from other clubs. Nearly every bike shop and coach in San Diego now have their own team. This change has reduced the overall number of members in the club, but improved access to the sport and the quality of organizations in the sport. The goal of the ambassador team is to represent the club in the best possible way by giving back to the volunteers and athletes that represent the club in all the best ways. I'm glad to be part of the team and humbled by the accomplishments of the other members.
Craig: Your 2 years as President of the TCSD have recently ended. We are grateful for your service. What would you like people to know about the day to day operation of the Tri Club that they might not be aware of?
Steve: Volunteers do what they want. We have the best volunteers because we empower members to improve the club, not because someone tells them what they should do. Our volunteers have the great ideas and see them through when we step aside. Sometimes things don't work out as planned, but often they work out much better. The position of President is more about building good working relationships than dictating policy or creating rules.
Craig: Upon looking back, what were some of the greatest challenges the TCSD overcame during the past couple of years?
Steve: Focusing on the club members we have rather than pretending that the total number of people is our ultimate goal. We put on more races and events in the last two years than ever before. My personal goal was to provide members with the best possible value for their membership.
Craig: What would you like to see changed in the Tri Club?
Steve: I think the Yahoo group should be replaced with something more conducive to discussion about the club and triathlon. We should make an effort to more closely align our club goals with the goals of USA Triathlon. I'd like to see the club converted to a 501(c)3 because it represents the best long term interests of the club. I also think we should change the logo. Just kidding!
Craig: How about the sport in general? If you could waive a magic wand over all of triathlon, what would you change?
Steve: It's tough to see everything take on a more corporate feel, but I think it's in the best interest of survival for the industry. The small off the path races out there are really special, but don't do a lot to support a professional contingent. It's great to see the NCAA bringing triathlon on as a women's sport. I hope that trend continues with the men's side to support US efforts at the Olympics and fostering a healthy and fan friendly format.
Craig: What was the most rewarding aspect of being the TCSD President?
Steve: Interacting with the members. Triathlon is a great outlet before or after spending a day at the good ole office desk. Our club members are great for helping to keep things in perspective.
Craig: You had a great team of support help. Who were some of the people who made the TCSD look as good as it did during your watch?
Steve: Erin Hunter, my girlfriend, has to be at the top of the list. She's done a lot for the club as well, but she really helped me to make good decisions and make sure I kept things in perspective. Florian Hedwig really made being in the club a fun place to be. All my best friends are in the club and many have helped along the way.
Craig: What are your future goals and aspiratioAnchorns in the sport of triathlon?
Steve: Challenge Roth is my next big endeavor after the initial 1am PST Challenge Signup. I'd like to run the entire marathon. Anything else would be a bonus.
Craig: Steve, you did a tremendous job as President of the TCSD. On behalf of all our members and others in the community, thank you for a job well done! And thank you for sharing your story with us. We wish you the very best of luck in the future. The sky is the limit for you!
Craig Zelent is a USA Triathlon Level 1 Certified Coach. Craig can be reached at 760-214-0055 or tricraigz@yahoo.com.