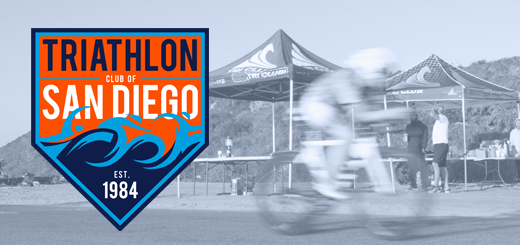 I had the chance recently to talk Ironman with TCSD member Kevin Koresky. Kevin recently completed his first Ironman at IM Florida. Please join me as we get to know a really good guy!
---
CZ: What was your sports background prior to triathlon?
KK: Growing up in Michigan, the closest lake was only a 5 mile bike ride away. During summer vacation my friends and I would ride our bikes to the lakes to go swimming and fishing all day long. I played a lot of different sports, football, ice hockey, baseball, basketball and bowling. I ran track in Jr. High; I ran the ¼ and ½ mile. Growing up I always had knee problems, I was told I had childhood arthritis and I could grow out of it; I did. In High School I turned to weight lifting and swimming. Instead of going to college I joined the Navy. In the Navy I continued lifting weights, especially my legs, ran, swam and played football. As a young adult I played tennis, started snowboarding, I joined a few football and hockey leagues with some friends. I have always been active and full of energy; I think it drives my parents nuts.
CZ: How did you get introduced to triathlon?
KK: In 2001 one of my best friends, Joe Barrus, invited me to join Team in Training Triathlon team with him. His father had passed away from Leukemia. Knowing this made the decision a lot easier. Joe explained that we would be training for the Los Angeles Triathlon and by fundraising we would be receive coaching. That season I did the Imperial Beach Triathlon, Carlsbad Triathlon and the LA Triathlon. Going into the LA Triathlon I had bronchitis and a fractured shin. Against my doctors advice I went and completed the race. It was a great experience, the lifestyle, the cause, the people and the energetic atmosphere. It hooked me in.
CZ: I recall you have some family health issues that have motivated you to seek a healthy life. Please tell us about that.
KK: Heart attacks and other associated heart problems have claimed the lives of over 95% of the men in my family. I was 16 when my father had his first of four heart attacks. That vision has always been in my head and is what drives me to live a healthier and active lifestyle. My father had his fourth heart attack and had to have a triple bypass 2 years ago. His bypass is what influenced me to do Ironman Wisconsin. I was hoping he would have been able to drive from Michigan to see me but his health would not make it possible. It turned out to be for the better, the weather was nasty that year.
CZ: What is it about the Ironman distance that turns you on?
KK: The magic, the challenges, the people, the stories. I can't pin it down to just one thing. I enjoy everything that Ironman has to offer. Ironman has made such a positive impact in my life, that I would like to figure out a way to share it with those who dream of being an Ironman.
CZ: Because of your 2006 Ironman Wisconsin experience, I was probably rooting harder for you this year than any other TCSD member. Please share with us your "good samaritan" story from that race and how it prevented you from finishing.
KK: Ironman Wisconsin was the one that got away. While in the special needs area of the bike course, I made some race day mistakes. I called my training partner to see where he was. He was 10 miles behind me, so I decided to wait for him. He never caught up because he didn't make the bike cut off. While I was going through my special needs bag a volunteer asked me if another participant could use my bike pump. I said yes. I had two with me (Co2 in my bike bag and a hand pump). My intent was to give her the pump and get going but she didn't know how to use my hand pump. So, I got off my bike to show her how to use the hand pump. Then I noticed she didn't even have the flat changed yet. I decided that it would take me about 90 seconds to change her flat, so I helped fix the flat. After the flat was fixed her chain was caught in the front derailleur, I fixed that. I shifted her gears really quick and noticed the bike was shifting rough, so I got my handy tools kit out and adjusted her derailleur. I was in the special needs area for at least 65 minutes. When I got back on the bike I was wet and freezing, so as you can imagine my legs start to cramp. It was not my day and I was pulled off the course.
CZ: Do you have any regrets about that?
KK: I did at first. It was a big disappointment not having finished. As I trained for Ironman Florida, I started to think about all the benefits and the experience I had gained in Ironman Wisconsin. I was able to use the experience to help me focus on the big picture for Florida. It fueled my desire to succeed and it drove me on those really tough training days. I was able to stay calm, relaxed and focused when I got to Florida. It taught me a lot of valuable lessons (no phone calls and do not stop for any reason). The biggest benefit: I knew I was ready for Ironman Florida and any obstacle Ironman had to throw at me.
CZ: What was your Ironman Florida race like?
KK: I woke up at 4:30AM feeling very calm and well rested. I took a long hot shower, ate, and stretched. At 6:40AM I walked from my room to the swim corral (host hotels rock). 7:00AM we are off. Over 2,600 people fighting, kicking, pulling, slapping, and climbing all jockeying for the same location in the water. I got through the first loop, looked at the time clock. It read 48 minutes. My swim projection was 1 hour 30 minutes max. I knew I had some work to do to hit that mark. I ate a Gu and drank some water as I passed through the swimming aid station. After getting back in the water I decided to play this game. I call it catch the feet. Every time I saw a set of feet in front of me in the water I had to catch them and then pass them. I finished the swim at 1 hr 19 minutes, exceeding my projection. I felt amazing coming out of the water.
The bike was my favorite event. I felt strong. The winds were blowing but I did not care. I had a job to do. At around 25 miles into bike, it got hard. My lower back and hips were starting to hurt. I stretched every chance I could. I stopped only two times. Once at the special needs to fill my bottles with carbo pro and one aid station to use the facilities. I beat my bike projection by 17 minutes.

I came off the bike feeling amazingly energized. I went into the transition tent and changed. I changed everything but my jersey and socks. That was a stupid, stupid, STUPID mistake on my part. On the run course I started to shuffle picking up my pace to my natural 10 minute per mile pace. Then all of a sudden at mile 6 I felt something at the bottom of my feet. Blisters. I hate blisters! The whole top area of both feet blistered and both heals blistered. I had sand in my socks and it shredded my feet up fast. (Note to everyone doing these events; change your socks). I was now forced to walk about 18 miles of the marathon. With about 8 miles to go, the blister on my left foot popped. At mile 15 I went to an aid station and asked if anyone had a clean pair of socks. This young man, probably no older than 15 ran to his mother's car and came back with a new pair. He was my savior. I owe him. By the time I switched socks my feet were in really bad shape. At mile 20 the right foot blister popped. Pain, Pain, Pain! It felt like I was walking on glass. At mile 24 the right heal popped. With just a ¼ mile left the left heal popped. The pain was so intense that all I could do was stand, trying to push the pain away. I could see and hear the finish line. As I stood there I thought to myself, it may be time to take my shoes off, tie them to my knees and use the insoles to pad my palms. I was willing to crawl to the finish line. I decided to chance it and I ran to the finish line. It is amazing what you will sacrifice in life to chase a goal. Crossing that finish line had a way of taking the pain way.
CZ: What were your emotions like at the finish line?
KK: The first thing I thought as I came across the finish line was WOW! This goes down as the best day of my life. All the hard work, the long days, the obstacles, the sacrifices and the pain; was worth everything to come across that finish line. I remember the finish line catcher asking me "if there was anything I need." I pointed and said "I need one of those right there. I have been waiting over 26 months, can I have it?" It being the Finishers Medal, hat and shirt you get when you cross the finish line. I have to add when I arrived at the airport there were a few fellow Tri Club Folks waiting to greet me in the luggage claim area. I had no idea they would be there. It was an awesome feeling as I came down the escalator to see them. You may have heard we had a little party for me and the other Florida Ironman Finishers. It was great to see everyone and share stories. It has been four weeks since that day and I still can't wipe the smile off my face.
CZ: You are preparing now for your next Ironman - the April version of IM Arizona. What are the keys to sucess at Ironman?
KK: The support I get from my family, friends, coaches, training partners, and all the other amazing people I get to meet. Oh yeah the usual - putting together a solid hydration, nutrition, training and race plan is important, as well.
CZ: I've noticed you do a lot of community service. What types of volunteer activities are you involved in?
KK: Every year that I have been doing triathlon, I try to pick a charity. The charities I have picked so far have been based on what has impacted either my family or my friends. I have volunteered and fundraised money for the Leukemia & Lymphoma Society, American Heart Association, Boulder & San Diego Humane Society, 911 Relief Fund, and Susan G. Coleman. My most resent charity drive was to help gather items and funds for the San Diego Wild Fire Victims/Salvation Army. We collected 6 truckloads of items and raised around $1,000.00. I have been a mentor for Team in Training's Triathlon group (both here in San Diego and Denver) and I have also coached youth football.
CZ: What do you do for a living?
KK: You would think with all this personality I would be a comic or a writer but I am a Project Manager. I love what I do.
CZ: What are your triathlon goals for 2008 and beyond?
KK: In 2008, I am doing Ironman Arizona-April and Ironman Arizona-November. As for beyond, I hope to continue this great Ironman journey for the years to come, one a year for the next 50 years would be ideal. They have Ironman events all over the world, I can't think of a better way to spend a vacation. In time, I can see myself coaching in the wonderful sport of triathlon.
CZ: Why do you do it?
KK: My father has asked me this question a hundred times; especially when I would tell him how sore and beat up I was after a long training session. I think the answer came to me on a long ride; we were doing a 6hr ride up and down the Silver Strand. I was riding with Chris Teague and we were talking. While talking it came to me. The reason I do it is because someone in my life has told me I couldn't.
CZ: Where do you like to train?
KK: I like to train at Fiesta Island. When I was training for Ironman Florida I put in over 3,000 miles between running and biking. 75% of those miles were on Fiesta Island. I don't know how I did it but I was able to convince 6 other people from the Tri Club to meet me on a Saturday morning and ride 100 miles around Fiesta Island. That is roughly 24 laps. We were supported throughout the day by family and friends. It was awesome and it wasn't as bad as it sounds.
I would like to add. Thank you to all the members of TCSD. Without your support, friendship and the training partners I made this past year, the journey would not have been complete. Thank you to my family, friends, coaches and Craig for believing in me; now let's get ready for Ironman Arizona x2.
CZ: Thanks Kevin! And thanks for sharing your story. Good luck as you conquer all your goals!